Ice Cream Games
Ice cream games! What could be more fun than playing games centered around one of the world's favorite treats!
We have some great games the family will be sure to love.
Educational, creative, fun, and exciting – you can find all sorts of games and puzzles involving ice cream! No matter what the game…just like ice cream, an ice cream game is hard to resist!
Ice Cream Educational Activities

Scientific Explorer's Ice Cream Science Kit
Here's a great way to have kids learn the science of ice cream…by making there own! This kit suggests science experiments to help kids learn why rock salt is used to make ice cream and how ice crystals and air influence ice cream's texture. Kids can use their creativity to create different flavors and colors in making their very own ice cream!
Play-Doh Ice Cream Sets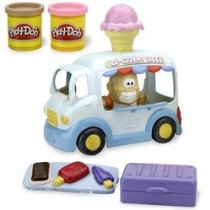 Play-Doh Ice Cream Sets are the ultimate creativity and imagination booster!
With the Play Doh Ice Cream Truck kids can create make-believe ice cream cones and delicious Play-Doh desserts. Imaginations can run wild with a Dohville figure that grows Play-Doh hair and can chomp down on a delicious ice cream treat. (Includes truck, two 2-ounce cans of modeling compound, figure, truck window/dessert mold, cone extruder and freezer/dessert mold.)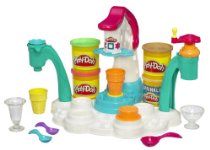 With the Play-Doh Magic Swirl Ice Cream Shoppe imagination and creativity runs wild! With tons of molds and accessories, kids can mold, scoop, squeeze, and swirl endless pretend ice cream treats in cones or cups, mini candies, cookies, pretzels, even decorate a cake.(Includes 4 three-ounce cans of Play-Doh, over 40 molds and accessories.)
Ice Cream Puzzles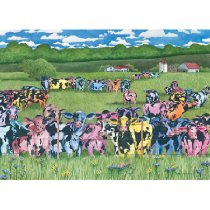 Ice Cream Pastures Puzzle
How about a bowl of ice cream…or two…and a family night figuring out this 1000 piece ice cream puzzle!
Go back to Ice Cream at Home Main Page
Go to Serving-Ice-Cream.com Home Page from Ice Cream Games