Lost in Space
by Diane Baum
(West Bloomfield, MI )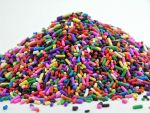 This ice cream game encourages children to use their creativity as they use the ice cream to sculpt a planet! Perfect for a children's Birthday Party! An adult version of this game is also suggested…that might get a little more rowdy!
What You'll Need
Good Night Moon or other short children's book on space
Vanilla Ice Cream
Chocolate Sauce
Marshmallow Creme
Blue and Green Sprinkles
Candy Bits (ex. broken pieces of Baby Ruth bars)
Bowls and Spoons
How to Play
Start out by reading the book "Good Night Moon" or another short story about space.
Then, talk about how the earth and other planets are round…like balls scoops of ice cream.
Give each person one scoops of vanilla ice cream in a paper bowl and instruct them to make a planet using the toppings provided.
Marshmallow creme for clouds, blue sprinkles for water, green sprinkles for land, candy bits for craters, etc.
Each child is a winner, because they get to eat their creation, they get to eat their planet.
Variation
For the adult's version of Lost in Space, give each person two scoops of his favorite flavor of ice cream in an ice cream fountain dish.
Each person must fill the fountain cup and ice cream with the most toppings.
If a person causes his dish to overflow or make a mess, he automatically loses!
The adult winner is the first person who fills his cup with so many toppings, that their is no clear space in their glass.
…that is why this game is called Lost in Space.
Go back to Ice Cream Game Ideas Main Page
Go to Serving-Ice-Cream.com Home Page