Personalized Ice Cream Bowls
Personalized ice cream bowls are fun gift for people of all ages. It's amazing how people love to see their names on things…and if they're an ice cream lover a personalized bowl couldn't be a better choice.
Are you looking for a great gift for a friend or family member or want to indulge your love for ice cream with a special bowl for yourself? Why not get a personalized ice cream bowl? With all the various styles and colors available, you're sure to find the right one.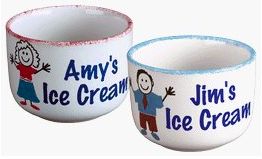 Why Personalized Ice Cream Bowls Are A Perfect Gift:
Ice cream bowls with the personal touch are a great gift for anyone because of the endless possibilities available, such as:
Styles: Though most of these ice cream bowls look a lot like large coffee cups, there are also options that are more triangular in shape.
Colors: There is a rainbow of colors to choose from when looking for an ice cream bowl. You can choose that person's favorite color or one that compliments his or her kitchen.
Printed Names: You can choose to have someone's name printed on the bowl in any font you decide. You can also choose what shade you want the name to be printed in.
Pictures: You can decide whether or not to have a logo, picture, or pattern printed near the person's name. These are also available in different colors.
Materials: Most personalized bowls for ice cream are made of clay and are decorated with non-toxic paint. The bowls are then glazed and fired in a kiln, a process which helps seal in the decorations and colors. These ice cream bowls are also available in stainless steel or plastic.
Durability: Because of the glazing and firing method used in making them, these ice cream bowls are very durable and are both dishwasher and microwave safe. The finish and wording is also 100 percent dishwasher safe.
Who You Can Give A Personalized Ice Cream Bowl:
Because of the endless options for customizing an ice cream bowl, you can purchase one for anyone you know. Maybe you need a gift for Mother's Day or Father's Day, or simply your parents' birthdays. You could also offer one to a brother, sister, or cousin. Even a grandmother or grandfather would enjoy one. You might even choose to get one for you boss on Boss' Day.
Perhaps your husband or wife is a fan of ice cream or you have a child or grandchild that adores ice cream. You could even be looking for a gift for that friend as a thank you for being there for you.
Whomever you decide to give one to, you will be pleased to see the smile on his or her face as they see their gift. Personalized ice cream bowls make the perfect gift for anyone who is on your list.
Here are some bowls you can choose from.
Go back to Ice Cream Gifts Main Page
Go to Serving-Ice-Cream.com Home Page from Personalized Ice Cream Bowls