About Serving-Ice-Cream.com
Founded in 2008, Serving-Ice-Cream.com is the authority ice cream site for great content on the art of making, serving, and selling ice cream.
The journey started after my husband was in seminary and I was bored at home. We both decided I needed to start an online business.
I always loved ice cream and have a passion for it! There is just nothing like the sound of an ice cream truck, the appeal of a 1950's ice cream shop, or pictures of young children with ice cream all over their faces!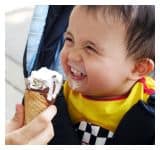 Plus, I love to make it and when I started the website, I just got my first ice cream maker.
After doing a lot of searching around reading tons of different pages that said I could make $1 million in seven days, I decided to go with SiteBuildIt! because they painted the picture realistically.
They lead us by the hand as we went from just knowing how to send out e-mails to almost making a full-time living online.
I say "almost" because it looks like we will soon have a full-time passive income from our websites. From 2010 2011 we went from hardly making anything to a full, part-time income. So, it's just a matter of time and energy now.
Check them out.
And come back and visit us again!