Ice Cream Contest
Ice Cream Dessert Recipe
Ice Cream Contest! We're holding an ice cream dessert recipe contest!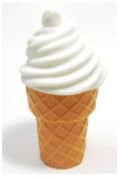 Ice Cream Dessert Recipes Win a $25 Amazon Gift Card! Contest Ends win 50 submissions are received
Do you have a decadent ice cream dessert recipe that your family and friends rave over?
Do you have a simple but delicious recipe you love to make in a pinch? Is it an ice cream cake? An ice cream pie? Or just some other ice cream treat? Whatever it is…we'd love to hear about it!
Congrats to Noreen for winning our I LOVE Ice Cream Survey Contest!
If you'd like to be first to hear about our new contests, be sure to sign up for our newsletter.
Are you an ice cream lover?
Sign up for our free Ice Cream Newsletter: The Cherry On Top! Every month you'll get ice cream recipes, tips, and opportunities to participate in ice cream contests!
Sign up or find out more about our Ice Cream Newsletter.
Go to Serving-Ice-Cream.com Home Page from Ice Cream Contest