The Ice Cream Scoop is in Your Hand
Ice cream has been around for millennia, indulged in for centuries, marketed for decades, and now – as you reach for your favorite scoop – the legacy rests in your hand.
If you're anything like me, you have an insatiable love for this dessert and a mission to help others enjoy it to the same extent you do!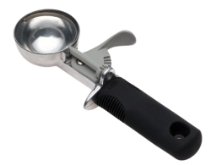 So where do you find yourself dishing out this treat? Home? Business?
If you're at home , you're either serving homemade or brand name ice cream.
If a business is your thing, you probably have a truck, van, cart, bicycle, shop, parlor, franchise, or vending machine!
Wherever you are or wherever you wish you were, you need the right information, advice, and equipment to share your passion for this frozen treat with others.
There are some things you should keep in mind…
What ice cream maker best fits your needs?
What brand will deliver the flavor you desire?
If you are thinking of starting a business – what type is best for you and just where will you get your equipment and supplies?
If you are already in business – how can you make your business better?
And for everyone – the all important question – how will you present and serve this treat?
Flavor. Texture. Temperature. Look. Even how it's served!
You've got to get everything just right!
Now do not get me wrong. I'm not too picky.
When it comes to this dessert – I won't turn you down. But there is something special about a carefully-crafted, cheerfully-scooped-out, overflowing-bowl of…YUM!
Pay careful attention to the details and you will have your friends and customers holding out their dishes for more.
The scoop is in your hand……how are you going to dish it out?
Ice cream gifts are unique, fun, and loved by all! They're perfect for all ages and all places. You can even have ice cream gifts shipped to friends far away!
Thinking about an ice cream shop business? If you need equipment, franchise info, or general information on your very own ice cream parlor – you've come to the right place!
Explore a world of facts on ice cream – from it's origin and history to national days and fun trivia to stump your friends!
Advertise your ice cream business here. Promote your business to a targeted audience hungry to find and utilize your ice cream business.
Ice cream resources…the best of the web. Discover and find reviews on the best ice cream blogs and sites on the web.
Looking to see what options are available for ice cream rentals? Learn how to rent soft serve ice cream machines, ice cream carts, and ice cream trucks.
Blog
Go to Serving-Ice-Cream.com Home Page