Mystery Sundae Making
Mystery Sundae Making: the ice cream party game of surprise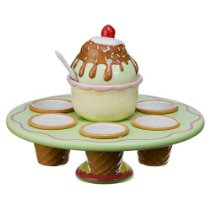 In this
ice cream game
contestants try to make their dream sundae in one minute…while blindfolded!
Get ready for lots of laughs as you watch people attempt to make their perfect sundae while blindfolded. From adding toppings they're not fond of, to missing their ice cream bowl completely – this game is sure to be a blast!
What You'll Need
Blindfold
Timer
A bowl of ice cream for everyone
Various ice cream sundae toppings placed in bowls with serving spoons
Various ice cream sundae sauces (pourable or placed in bowls with serving spoons)
How to Play
Place sundae toppings and sauces on a table within reach of a child sitting or standing at the tables edge.
Blindfold one child, placing a bowl full of ice cream in front of him.
Set your timer for 1 minute (more or less time may be given if desired) – then say go.
The child then tries to create his ice cream sundae, putting toppings and sauces on his ice cream while blindfolded.
When the timer dings, the child's sundae is done and it's someone else's turn.
Everyone can enjoy their sundae at the end so everyone is a winner in this game!
Variation
After blindfolding the child, shuffle the ice cream toppings and sauces around so that the blindfolded ice cream sundae maker has no idea where his toppings of choice are located!
For older children, include at least one topping that contestants try to avoid – like sliced pickles or kidney beans!
Extras
Remember to be mindful of people's allergies.
This game will probably end up being messy! Plan ahead!
Go back to Ice Cream Game Ideas Main Page
Go to Serving-Ice-Cream.com Home Page