Ice Cream Sundae Topping Hunt
by Serving-Ice-Cream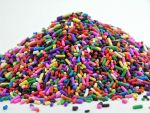 This ice cream game is a hunt for hidden toppings! After finding as many hidden topping packets as they could find, the topping hunters get to enjoy an ice cream sundae made from their newly found treasure!
What You'll Need
A variety of ice cream toppings placed in small bags
A container or bag for each child
Ice cream (for when the game is over!)
Set Up
Hide all the ice cream sundae topping packets around your house or yard before the party begins.
How to Play
Give each child a bag or container to place the topping packets they find.
On "Go" children run off to find as many topping packets that they can find (or you can limit the number they find to keep things equal).
Once all the topping packets have been found, children re-group and can make an ice cream sundae using the toppings that they've found!
Go back to Ice Cream Game Ideas Main Page
Go to Serving-Ice-Cream.com Home Page