Ice Cream Cake Recipes
Yum! Ice Cream Cake recipes!
If you're looking for some ice cream cake recipes – just jump to the bottom of the page.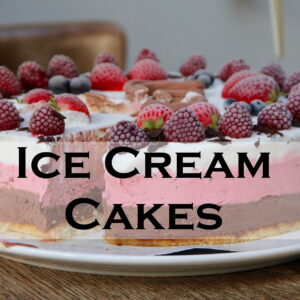 Ice Cream Cake Making Tips
Here are some ice cream cake making tips to help you make an ice cream cake success!!
Dethawing the Ice Cream
The hardest part about making an ice cream cake is getting the ice cream to a consistency that's easy to spread, but that is not too runny.
The best way to dethaw ice cream is by taking it out of the freezer and placing it in the fridge. This will prevent the ice cream from dethawing too quickly.
If you are in a hurry, you can set the ice cream out on the counter – but it will dethaw more quickly – so keep an eye on it.
Since the ice cream around the edges of the carton will soften before the ice cream in the middle, use the softened ice cream around the edges first – scooping toward the middle as the ice cream in the center of the container softens as well.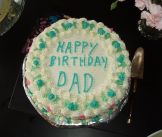 Pre-Freeze Layers and Toppings
As you create your ice cream cake masterpiece, the ice cream will continue to melt.
To prevent the ice cream from becoming a melted mess and running out from between the layers, freeze the cake layers and any other toppings that you will be adding.
This will keep the ice cream insulated and help prevent the ice cream from melting.
With these tips in mind…go ahead…make a delicious frozen treat for your family and friends!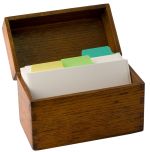 Ice Cream Cakes and Pies
Ice cream cake! Can never get enough of it!
Ice cream is my all-time favorite dessert…but I won't complain when this "delicious-by-itself-dessert" gets "dressed up" a little! Making this frozen dessert into a cake is another one of my favorite treats!
Here are some great recipes to help you dress up your ice cream!










Decadent Brownie Ice Cream Cake 





If you're a chocolate lover and you've got a little bit of time on your
hands
, this is the recipe you'll definitely want to try! Combining the flavors …





If you're looking for an easy ice cream cake and you love chocolate and cherries…then this is the
ice cream dessert
of your dreams. Chocolate …





This delicious
strawberry ice cream
cake is a delicious summer treat…especially in strawberry season! It combines sponge cake, vanilla and strawberry …





This is a fun twist on the traditional ice cream cake…an ice cream cake that you bake! Yes! You put ice cream in the oven! If you don't believe …





Here's an easy ice cream cake that combines butterscotch, strawberry, and
chocolate ice cream
in a delicious sponge cake treat. It's easy to make, …
Chocolate Coffee Ice Cream Cake 





This ice cream cake recipe is delicious. It combines the flavors of vanilla, coffee, and chocolate and incorporates the textures of vanilla ice cream …





Here's an ice cream cake for
peppermint
lovers. It calls for peppermint and chocolate, making it a delicious combination of flavors. This is a cake …
Bananamon Ice Cream Cake with Oatmeal Cookies 🙂 





Yum! Banana, cinnamon, oatmeal cookies, and even a little caramel sauce if you'd like…what a delicious combination for an ice cream cake! It's …





Butter Pecan Ice Cream Pie plays off of the one of the most traditional favorite kinds of pie – pecan pie. Combining ice cream into this dessert is …





The classic favorite black forest cake turned into a delicious ice cream cake. Enjoy the flavors of chocolate, cherries, and whipped cream with …





I own an Ice cream store and my kids were fooling around one day as they were practicing how to make cones. Well, they took their mistakes and made …




If you're looking for an easy ice cream cake and you love chocolate and cherries…then this is the ice cream dessert of your dreams. Chocolate …




This ice cream cake is for chocolate lovers! It calls for vanilla ice cream (but you can use whatever ice cream you've got in the freezer or have …
Cherry Pleaser Ice Cream Pie
This simple ice cream pie combines the ingredients is a delicious combination of just a few ingredients. It's a perfect dessert to serve when your …
Want to make your own Dairy Queen Ice Cream Cakes? Try this simple recipe.
How about an ice cream inspired cake? Check out our Ice Cream Truck Cake Ideas.
Go back to Ice Cream Recipes Main Page
Go to Serving-Ice-Cream.com Home Page from Ice Cream Cake Recipes