Ice Cream Cone Stepping Stone Game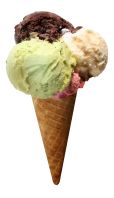 This ice cream game encourages teamwork (or it can be played individually). It requires skill and balance as team members work their way to the finish line stepping only on ice cream cones!
What You'll Need
Heavy Paper (such as Bristol Board) cut in the shape of an Ice Cream Cone (2 for each person – plus 1 extra per team)
Start and finish line
How to Play
Divide people into teams, giving each team 2 ice cream cone shaped papers for every team member, plus 1 extra per team.
Team members must use the ice cream cones as stepping stones – they can only step on the ice cream cones.
The teams move from the start line toward the finish line, by picking up the last stepping stone and passing it to the front so that it can be placed on the ground and the team can move forward.
The first team to cross the finish line wins.
Note
If teams have large numbers of people on them, the distance between the start and finish lines should be much further than the distance between the two lines if played with teams with a smaller number of people on them.
Variation
For older players with more advanced skills, you can try playing this game with only 1 ice cream cone per person (plus 1 extra per team).
You can also make this into an "every-man-for-himself" race. Players each get 2 ice cream cones and they race against each other from the start to finish line (step on 1st cone, reach back and move the other cone to front, step on it, etc.).
Go back to Ice Cream Game Ideas Main Page
Go to Serving-Ice-Cream.com Home Page