Homemade Ice Cream
The Ice Cream Maker Way
So you're interested in serving ice cream from an ice cream maker? If you're like me…you like to serve ice cream just so that you can eat it!
Before you can do any serving or eating though – you need to find the perfect machine that will churn out gallons of ice cream over the next couple of years. A new family tradition is about to be born.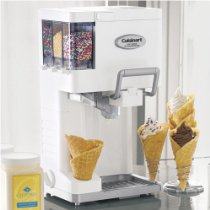 Basic Steps for Buying an Ice Cream Machine
Do you have a better idea about what you're looking for now? Maybe you always knew.
Soon it will be time to taste that first spoonful of ice cream straight out of your ice cream machine…once you find it, that is!
Now that you know exactly what you are looking for in a frozen dessert maker, you can check out some brands.
Ice Cream Machine Brands
United Kingdom Ice Cream Machine
Makers for Kids
Making Ice Cream in Your Machine
Happy serving and eating ice cream!
Go to Serving-Ice-Cream.com Home Page from Ice Cream Maker