Ice Cream Franchise
Information
HOTTEST ICE CREAM FRANCHISE OPPORTUNITIES IN TOWN
Thinking about an ice cream business? We've got the information and opportunities you're looking for!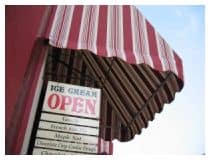 We would love to connect you with the ice cream business opportunities that would fulfill your dreams. If you are thinking about being a franchise owner of an ice cream business and wish to provide people with a sweet treat while building your own business, we have got the information and opportunities you will need.
Procuring a franchise in the popular ice cream industry could be the best way to fulfill your dream of owning a food franchise. Our website offers a comprehensive directory featuring various ice-cream businesses for sale sorted by category. Browse through our list and convert your ice-cream shop ownership into reality.
Find out more about each business by clicking on the category you are interested in.
You may also browse through our other information. We'll point you to other informative resources.
Didn't find exactly what you are looking for? Need to find the right franchise opportunity and information for you in another industry? Get in touch today by filling the contact form, and we will provide you the desired information at the earliest.
Franchise Opportunities: Are they Right for You?
Franchises by Product
Franchises by Selling Method
Ice Cream Shop
Vending Machine
Feel free to browse around. We hope you find this information helpful! You can find an extensive list of franchises in other areas beyond ice cream.
All the best as you research your possibilities and eventually launch out into your new business!