The Ultimate Topping Drop Game
by Serving-Ice-Cream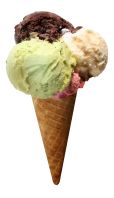 This ice cream game requires skill to drop ice cream toppings into a waiting cone from a pretty far distance. This game can get a little messy…but it's a lot of fun!
What You'll Need
Empty ice cream cones (1 for each pair of people)
A variety of toppings
Ice cream (optional)
Chairs (1 for each pair of people)(optional)
How to Play
Break every one up into pairs.
Have one person lie on the ground with the end of an ice cream cone in his mouth.
Have the other person stand above him (he can stand on a chair to make it more difficult for older groups).
On "Go" have everyone that is standing try to drop ice cream toppings into the cone. If you're really feeling adventurous, you can also have them try to drop ice cream into the cone as well.
After a little while, have the pairs switch positions (lying to standing and standing to lying).
The team that fills their cone first or filled their cone the most when you say "Stop" wins!
Note
If having the children, stand on chairs, be sure to supervise so that no one gets hurt.
This game is a little messy…so be prepared!
Go back to Ice Cream Game Ideas Main Page
Go to Serving-Ice-Cream.com Home Page