Baked Alaska
Baked Alaska Recipe – because it's just fun to bake ice cream!
by Sigma Das
(Ellicott City, MD USA)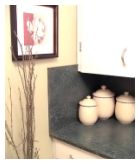 This is a fun twist on the traditional ice cream cake…an ice cream cake that you bake! Yes! You put ice cream in the oven! If you don't believe me, be sure to check this ice cream recipe out! It's sure to bring comments at your next get-together!
Ingredients
1 litre Vanilla Ice Cream
1 (8 in square) vanilla cake
8 egg whites
1/8 tsp cream of tartar
1/8 tsp salt
1 cup powdered sugar
Directions
Line an 8 in square pan with aluminum foil.
Slice the cake in somewhat thin slices.
Line the the bottom and sides of the foil lined pan with cake slices.
Soften the ice cream enough so that you easily spread it.
Spread ice cream evenly over the cake.
Cover and freeze for about 8 hours or until firm.
Beat egg whites, cream of tartar, salt and sugar until very stiff peaks form.
Immediately turn cake and ice-cream upside down on to an oven proof serving dish.
Cover all over with the egg white mixture. Cover cake completely to seal.
To serve, preheat oven to 425.
Remove ice cream from the freezer and bake 8-10 minutes, or until the meringue is a little firm on top.
Serve and enjoy this "hot" ice cream treat!
Go back to Ice Cream Cake Recipes Main Page
Go to Ice Cream Dessert Main Page
Go to Serving-Ice-Cream.com Home Page