Peppermint Ice Cream Cake
Peppermint Ice Cream Cake: a mint lovers dream
by debbie
(midland mi)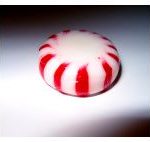 Here's an ice cream cake for peppermint lovers. It calls for peppermint and chocolate, making it a delicious combination of flavors. This is a cake I make every year for the holidays, even though it is really good at any time.
Ingredients
1 devils food cake mix
1 container of peppermint ice cream
1 package of cool whip
Crushed Peppermint Candies for garnish
Chocolate Curls for garnish
Directions
Make the devils food cake mix according to the package directions – but bake according to the directions below.
Spray a cookie sheet well with cooking spray and pour batter onto greased cookie sheet.
Bake at 350 degrees for about 15 minutes or until a toothpick comes out clean.
Allow cake to cool completely.
Place plastic wrap on bottom of cake. This will make it easier to roll up.
Thaw the ice cream about 10 minutes for easier spreading.
Spread ice cream evenly across the cake.
Roll up the cake jelly roll style.
Place in freezer for 5 to 6 hours.
Remove from freezer, cover with cool whip.
Garnish with crushed peppermint and chocolate curls.
Place back in the freezer overnight.
Slice, allow to set for about 5 minutes before serving.
Enjoy!
Go back to Ice Cream Cake Recipes Main Page
Go to Serving-Ice-Cream.com Home page