Butter Pecan Ice Cream Pie
Butter Pecan Ice Cream Pie plays off of the one of the most traditional pies – pecan pie.
Combining ice cream into this dessert is a great way to embellish this tried and true dessert!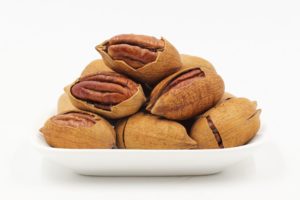 Ingredients
2 1/2 cups butter pecan ice cream, softened
1 baked pie shell cooled
Whipped cream and pecans for garnish
Directions
Spread ice cream into the cooled pie shell.
Chill ice cream pie in freezer until set. This will take about 3 hours.
Garnish with whipped cream and pecans just before serving!
For all who love the traditional pecan pie, this is a tasty alternative to try!
Make with Homemade Ice Cream
If you are feeling adventurous and want to make your own homemade ice cream to go in your pie, you can try this butter pecan ice cream recipe. This recipe is one of our family's favorites!
Simple.
Easy.
Delicious.
A Traditional Southern United States Pie
Pecan Pie is the pie of Southern hospitality.  Having spent several years in the South, I grew to love the culture and the cuisine.
This pie takes me back to that Southern charm.
Occassionally, some Southern folks serve pecan pie with chocolate. You can try squirting some chocolate sauce on to your pie for garnish.
One thing that I do not miss about the South, however, is the heat. Boy, does it get hot down there.
…maybe that's where I developed by passion for ice cream…hmmm…
Whether you make your ice cream pie with store-bought or homemade ice cream, it will be delicious.
Go back to Ice Cream Cake Recipes Main Page
Go back to Serving-Ice-Cream.com Home Page