Dairy Queen Ice Cream Cakes
Craving Dairy Queen Ice Cream Cakes? You can follow our simple recipe to make your own or we'll also show you how you can easily order one and have it made for you.
Are you looking for a yummy unique cake idea for a summer family gathering, office party or other special event? Try this simple recipe or go ahead and order a cake.
Making Your Own Ice Cream Cake
If you're a creative cook, you may have fun designing your own ice cream cake modeled after your favorite DQ ice cream cake!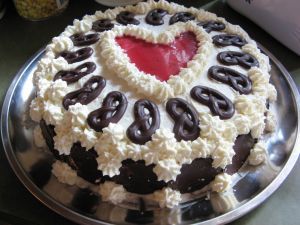 All you'll need is a spring form pan and…
Ingredients
Vanilla ice cream
Your favorite ice cream flavor
Your favorite ice cream sauce
Your favorite kind of cookie (crumbled in medium-sized chunks)
Whipped cream
Traditional frosting
Directions
Lightly grease your spring form pan.
Then, add the first layer of your Dairy Queen ice cream cake by putting a small amount of vanilla ice cream to cover the bottom and sides of your spring form pan.
Make the second layer with whatever flavor you want to be the main flavor of the cake. For instance, if you like chocolate, use chocolate ice cream for this layer.
Cover this layer with ice cream topping. Chocolate fudge would work well for our cake.
On top of that we can sprinkle a crunchy layer of cookies, perhaps crumbled Oreo or Chocolate Chip cookies. Or you may choose to use crushed candy bars.
The final layer is made with vanilla ice cream filled to the top of the pan and smoothed so that it can easily be decorated.
Since regular frosting is too heavy for an ice cream cake, you'll want to mix some whipped cream with whatever frosting flavor and color you've chosen.
Use the frosting to add a picture or message to the top of the cake, and you're done!
Whether you decide to order Dairy Queen ice cream cakes or experiment with making your own, you'll have a fun, tasty treat to offer your party guests!
Ordering a Dairy Queen Ice Cream Cake
Dairy Queen ice cream cakes may be just the ticket! Dairy Queen offers custom decorated ice cream cakes in a variety of flavors and can accommodate 8-24 people with a single cake, depending on which size you choose.
Check out Dairy Queen directly to browse the various cake options they offer.
Once you've decided on a flavor and size, type your zip code at the bottom of the page to find a Dairy Queen store near you.
You can then call them with your order and with any special decoration instructions you'd like to add. Their professional cake decorators can put a child's name on a birthday cake, a short customized message of congratulations, or just about anything else you can dream of!
If you need a cake right away or don't want a personalized message included, you can visit their store and purchase an ice cream cake from Dairy Queen without calling ahead.
Go back to Ice Cream Cake Recipes Main Page
Go to Serving-Ice-Cream.com Home Page from Dairy Queen Ice Cream Cakes