Ice Cream Pie Recipe
Preservation Pie
This ice cream pie recipe is more than just another recipe. It's a recipe created to help Turkey Hill in their quest to save farmland. Taste and save Lancaster County's goodness with this refreshing and heavenly recipe!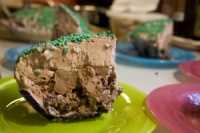 The Dairy has been donating the proceeds from the sales of its All Natural Recipe Ice Cream to the Lancaster Farmland Trust since 2005.
Because of the Dairy's generosity, the Trust was able to preserve an additional 63 acres of prime farmland in 2007 – a dairy farm owned by an Amish family in Fulton Township.
Turkey Hill hopes to make a difference again this year…and you can help by enjoying some of Turkey Hill's All Nature Recipe Ice Cream.
Ice Cream Pie: Preservation Pie
Submitted by Andi from Turkey Hill
Serves 8. Saves farms.
Ingredients:
1 chocolate pie shell (crust)
1 lb. mint-chocolate chips (or semi-sweet chips, if preferred)
1 container (1.5 Quart) of Chocolate Turkey Hill All Natural Recipe Ice Cream
1 8-oz. container Chocolate Whipped Topping
Green Jimmies (Sprinkles)
Directions: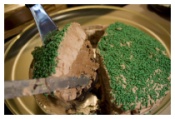 Set ice cream and whipped topping on your counter, allowing them to soften until spreadable.
With up to 3/4 of the mint-chocolate chips, cover the bottom of the pie shell.
Stir the remaining mint-chocolate chips into the ice cream.
Spread the ice cream mixture into the pie shell, until you've filled the shell to the top edge.
Generously cover the ice cream with the chocolate whipped topping.
Sprinkle the top of your ice cream pie with green jimmies.
If you have some extra mint-chocolate chips, you can sprinkle them on top with the green jimmies as decoration.
Freeze until solid. It's best to allow at least 12 hours between preparation and serving).
Serving Tip: If your pie is frozen solid and hard to cut, simply cut the pie with heated knife (place in hot water).
Go back to Ice Cream Recipes Main Page
Go to Serving-Ice-Cream.com Home Page from Ice Cream Pie: Preservation Pie