Decadent Brownie Ice Cream Cake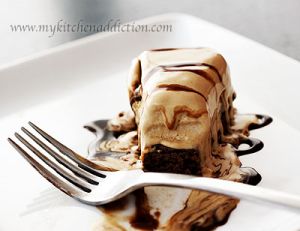 Decadent Brownie Ice Cream Cake
If you're a chocolate lover and you've got a little bit of time on your hands, this is the recipe you'll definitely want to try! Combining the flavors of chocolate, espresso, and caramel, Decadent Brownie Ice Cream Cake is a dessert you'll definitely want to try.

Featured Recipe
My Kitchen Addiction
Brownie Ingredients
1/2 cup melted butter
1 cup granulated sugar
2 eggs
1 teaspoon vanilla extract
1/2 cup all purpose flour
1/3 cup cocoa powder
1/4 teaspoon salt
1/4 teaspoon baking powder
Caramel Ingredients:
1 cup granulated sugar
1/4 cup water
1/2 cup heavy cream
Pinch of Kosher salt
Espresso Cream Ingredients:
1 1/2 cups milk
2 cups heavy cream
2 tablespoons instant espresso powder
1 vanilla bean
4 large egg yolks
3/4 cup granulated sugar
Final Touches:
2 tablespoons Nutella
Chocolate syrup (if desired)
Directions
How to Make Brownies:

Preheat your oven to 350°F.
With baking spray, lightly spray a 9-inch springform pan lightly.
In a bowl, combine melted butter, sugar, eggs, and vanilla.
Add the rest of the ingredients, stirring to combine.
Pour your brownie batter into your prepared 9-in springform pan.
Bake for 20 ? 25 minutes.
Let the brownies to cool completely.
How to Make Caramel:
Make your homemade caramel by combining both the sugar and the water in a small sauce pan. Heat over med heat.
Cook the sugar and water mixture, swirling occasionally, until it turns amber in color.
Gradually stir in the kosher salt and the heavy cream.
Stir this mixture until smooth.
Set the caramel aside to cool as well.
How to Make Espresso Cream:
Now it's time to make your ice cream base. Start by combining the milk and the cream in a heavy sauce pan over medium heat.
Add espresso powder to this mixture.
Split the vanilla bean in half and scrape out the seeds.
Add the vanilla seeds as well as the pod to the sauce pan.
Stir this mixture to combine.
Continue to cook the ice cream base over medium heat until the mixture begins to simmer.
DO NOT BOIL.
Meanwhile, in a mixing bowl, beat egg yolks and sugar together with a hand mixer. Continue to beat until it is turns a light color – kind of like mayonnaise – and it falls back in ribbons into the bowl.
Next, temper the egg mixture with 1 cup of the hot liquid, adding gradually while you are mixing with the hand mixer.
Transfer the egg mixture to the sauce pan and cook until it coats the back of a wooden spoon.
Strain out the vanilla bean.
Now, cover the mixture with plastic wrap – press the plastic wrap right onto the surface of the custard.
Refrigerate the custard until cooled completely.
When cool, freeze the ice cream mixture in an ice cream maker according to the manufacturer's directions – this is usually 20-25 min.
When the ice cream is just about finished churning, add your homemade caramel.
The caramel should swirl into the espresso ice cream without fully mixing into it.
Assembling your Decadent Brownie Ice Cream Cake
Spread Nutella over top of the cooled brownies.
Pour your espresso ice cream over top of the Nutella-topped brownies.
Smooth the ice cream with a spatula.
Freeze ice cream cake for 4 hours.
Serving your Ice Cream Cake
Take a knife and use it to loosen the frozen cake from the springform pan.
Slice the cake into wedges.
Drizzle the cake with chocolate syrup.
Enjoy to the fullest!
Special Thanks to My Kitchen Addiction
Jen from My Kitchen Addiction has well, I guess you could say, an addiction for baking and cooking. She enjoys reading cookbooks and watching the Food Network in her spare time.
She's constantly experimenting with recipe ideas and trying out techniques.
She is a proud member of the TLC Cake Crew.
Go back to Ice Cream Cake Recipes Main Page
Go back to Ice Cream Recipe Main Page