Ice Cream Cake Recipe
This ice cream cake recipe is an easy cake to make and the results are fabulous!
It makes a wonderful birthday cake, graduation cake, or "just-because-I-want-ice-cream" cake!
Everyone loves cake and ice cream – that's what makes ice cream cakes so good. The cake and ice cream are combined for you in one delicious dessert!
This recipe is quick, simple, not elaborate, but, oh, so good!
Ingredients: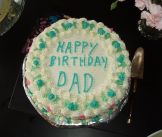 Directions:
Prepare cake mix as directed on the package.
Bake according to package directions in the pan(s) of your choice.
Cool 20 minutes.
Remove cake(s) from pan and cool completely on a wire rack.
Cut cake horizontally into 3 thin layers.
Place bottom cake layer on your serving tray.
Spread softened chocolate ice cream on top of the bottom cake layer.
Place middle cake layer on top of chocolate ice cream.
Spread softened strawberry ice cream on top of the middle cake layer.
Place top cake layer on top of strawberry ice cream.
Cover and freeze until ice cream hardens.
Spread icing or whipped cream on top and sides of cake.
Decorate with sliced strawberries, maraschino cherries, or sprinkles.
Helpful Hints: To make a more elaborate ice cream cake, just use your creativity! There's no limit on the variations of ice cream cakes you can make.
Use your favorite cake mix or recipe.
Use your favorite ice cream from the store or try making your own.
Instead of just cake and ice cream layers, you can also add dessert sauces or fruit.
Decorate cake with your favorite icing and top with your favorite ice cream toppings!
With a little imagination and creativity, you'll be surprised with what you create!
You can't go wrong with an ice cream and cake combo!
If you come up with an ice cream cake variation your friends and family rave about, be sure to let us know your new ice cream cake recipe! We'd love to hear from you!
Go back to Ice Cream Dessert Recipes Main Page
Go to Serving-Ice-Cream.com Home Page from Ice Cream Cake Recipe