Choco-Coconut Ice Cream Cake
by Sigma Das
(Ellicott City, MD USA)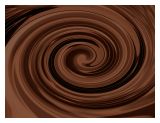 This ice cream cake is for chocolate lovers! It calls for vanilla ice cream (but you can use whatever ice cream you've got in the freezer or have a craving for!). Add a little chocolate sauce, coconut, chocolate biscuits, and a little more chocolate…you've got a delicious cake any chocolate lover will adore!
Ingredients
Vanilla ice cream
Chocolate sauce
Grated coconut
Hide and seek biscuits
Grated dairy milk chocolate
Cadbury Gems for garnish
Directions
In a glass bowl, place a 1 inch think layer of vanilla ice cream.
Spread a layer of grated chocolate on top.
Break Hide and Seek Biscuits in small pieces.
Spread these pieces on top of the the chocolate layer.
Put another 1 inch layer of vanilla ice cream top.
Spread a layer of chocolate sauce mixed with grated coconut.
Garnish your ice cream cake with Cadbury Gems.
Place in freezer for half and hour.
Serve and enjoy!
Go back to Ice Cream Cake Recipes Main Page