Hamilton Beach Ice Cream Maker Recipes
Hamilton Beach ice cream maker recipes – a host of easy and delicious ice cream recipes you can make with your Hamilton Beach ice cream machine!
Homemade Hamilton Beach Ice Cream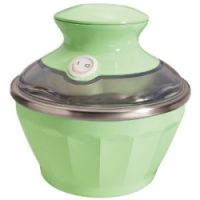 You can search for Hamilton Beach ice cream recipes alphabetically or by the categories below:
About our Homemade Ice Cream
Our ice cream recipes normally make about 1-1.5 quarts of ice cream. You can reduce or enlarge the batch size by halving or doubling the recipe ingredients.
The recipes for ice cream are categorized as Philadelphia style (does not contain eggs, uses less sugar and milk to reduce fat content) and Custard style (does use eggs, but produces a creamer ice cream desired by some).
We've reduced the sugar and the fat content in the Philadelphia ice cream recipes – so feel free to add more sugar or use a more fatty milk, if desired.
All of our Hamilton Beach Ice Cream Maker recipes are easy to understand and full of helpful information to the new ice cream maker adventurer.
About the Hamilton Beach Ice Cream Maker
Hamilton Beach produces several different types of ice cream makers. From the half-pint ice cream maker to the 4 quart machine, they offer an array of choices.
The design is an easy, hands-off design to allow for a relaxing ice cream experience.
You can not only make ice cream with your Hamilton Beach ice cream machine, but you can also make yogurt, gelato, sorbet, slushies, and sherbet.
When you purchase a Hamilton Beach ice cream maker you will receive two freezer bowls to allow for multiple uses.
Ice cream is made in just as little as 6 minutes or as much as 40 minutes depending on your machine. The specially designed bowl needs to be frozen overnight or for several hours before the ingredients are mixed in.
All Hamilton Beach Ice Cream makers are ice and rock salt free machines. The machines come in your choice of mint green, raspberry pink, and blueberry blue.
Each Hamilton Beach ice cream maker is designed for easy use to make your ice cream making experience enjoyable.
How much do you like ice cream? Do you ever get tired of always having the same flavors? Or does your family always run out to buy ice cream right when the brownies are hot or guests are over?
With the Hamilton Beach Ice Cream Maker and some great homemade ice cream recipes you will be able to add a new thrill to the ice cream wonder.
Go back to Hamilton Beach Ice Cream Maker Main Page
Go to Serving-Ice-Cream.com Home Page from Hamilton Beach Ice Cream Maker Recipes