Nuts About Fudge
by Sarah
(Kentucky, USA)
A vanilla ice cream sundae with walnuts, peanuts, pecans, hot fudge, caramel, and banana chunks.
This ice cream sundae combines the crunchy texture of nuts with the smooth, creaminess of ice cream. Add the taste of fudge, caramel, and banana…and you'll be going Nuts About Fudge!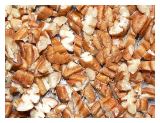 What You'll Need
Vanilla Ice Cream
Walnuts
Peanuts
Pecans
Hot Fudge
Caramel Sauce
Banana Chunks
What You'll Need to Do
Scoop out vanilla ice cream into ice cream bowls.
Sprinkle walnuts, peanuts, and pecans on top.
Drizzle hot fudge and caramel sauce over the ice cream.
Place chunks of banana on top to complete your ice cream sundae! Yum!
Go back to Ice Cream Sundae Main Page
Go to Serving-Ice-Cream.com Home Page