Buy Ice Cream Truck
Want to buy an ice cream truck? Ice cream vehicles are an important investment. You're buying a storefront on wheels!
Ice Cream Truck Buying Guide
Follow our buying guide to help you find a reliable truck.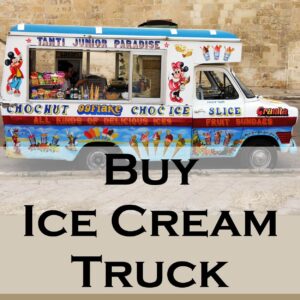 Your vehicle needs to attractively market your business, provide transportation economically, and pass safety and sanitary regulations.
Without your vehicle, you would not have a business. Don't buy impulsively. Do your research. Inspect the vehicle carefully. Know what features you want.
This page overviews what you need to know when you buy an ice cream truck – we'll talk about truck features, types of ice cream vans, considerations when buying an ice cream vehicle, and additional considerations for buying a used vehicle.
Features

Music Equipment

Music Box
Microphone
Loud Speaker
Ice Cream Bells
Electric Gong
Serving Window Features

Sliding Window: can slide vertically or horizontally
Third Track Window System: includes screen panel and movable or removable glass panel
Talk Through System: provides security while making communication easy
Types of Vehicles


Custom Made
Step Vans
Converted Vans
Converted Pick-Up Trucks
Converted Buses
Considerations When You Buy an Ice Cream Truck
Know the regulations for vending vehicles in your area.
Know the truck features you need.
Shop around, looking at several different models and suppliers.
Research the make and model of the vehicles you are considering in resources such as Consumer Reports.
Inspect the vehicle during the daytime on a clear day. This will allow you to inspect the car more carefully and will prevent blemishes from hiding.
Additional Considerations for Used Vehicles
An inspection provides insight on how well the vehicle was maintained.
A trusted mechanic should check the vehicle for any major problems.
Minor problems can be used to negotiate a lower price.
Maintenance and Repair Records
What types of problems does this vehicle tend to have? How often does the vehicle have problems? What is the average cost per month you can expect to pay on maintenance? Has this vehicle ever been in an accident?
Oil Change Records
How often was the oil changed? When was the last oil change?
Mileage
How many miles are on this vehicle?
Gas Mileage
What is the gas mileage in the city? Highway?
Exterior
Are there any dents? Rust on the body or underneath? Ripples in the metal? Is the paint job still good?

Tires
How old are the tires? Are the tires in good condition? Cracks? Uneven wear?
Interior
Is it clean? Is it in good condition?
Equipment
Does the vehicle come with any equipment? Does it work?
Freezer
Is it in good condition? How big is it?
Music Box
Does it work? How many different tunes does it play?
Underneath Vehicle
Fluid leaks?
Under Hood
Cracks or wear in belts or hoses?
Test Drive
Brakes firm? Engine relatively quiet?
Safety Features
Do they work?
An ice cream vehicle of any kind is a big investment. If you do your research and know exactly what you're looking for – you'll be happy with your choice for years to come!
Is it time for you to buy?
Go back to Ice Cream Truck Main Page
Go to Serving-Ice-Cream.com Home Page from Buy Ice Cream Truck