Vintage Ice Cream Trucks
Adding one of the many vintage ice cream trucks to your line of entertainment may be perfect! How would you like to add a taste of history to your next summer event?
Offering this refreshingly cool dessert through a modernized but vintage-looking ice cream truck will be a special treat for your summer guests.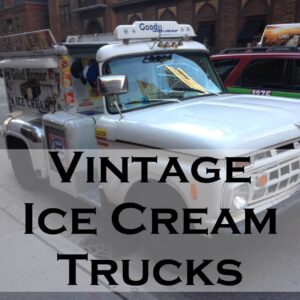 Who knows? The vendor may even be able to impart tidbits of information on the history of the ice cream truck business!
Ice Cream Truck Beginnings
Though they've been around since the beginning of the 20th century, ice cream trucks became incredibly popular in the United States and the United Kingdom in the 1950s.
The ice cream trucks of that time were very different from the ones we see traveling the streets today.
Ice cream tubs were kept cold in dry ice and the vendor had to completely turn off the van before serving ice cream to his clients.
The First Novelties Sold from Ice Cream Trucks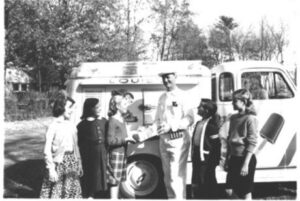 Good Humor Ice Cream Bars were one of the first novelty treats to be sold through ice cream trucks.
In the 1920, before ice cream trucks were popular, a man named Harry Burt invented his Good Humor Ice Cream Bar and created a unique marketing scheme.
He planned to sell his new creation from a fleet of white ice cream trucks! Each truck had bells to make clients aware of their presence and was driven by a uniformed driver.
Renting Vintage Ice Cream Trucks
How would you like to spunk up your next event by hiring vintage ice cream trucks, complete with bells and a uniformed drivers? You can add nostalgia to your next event by renting one of these trucks.
There are several companies who could make this dream a reality!
Wouldn't it be fun to take your guest back to the mid-1900s as they purchase a frosty treat for dessert?
As a side note, another option to consider if you love history and vintage designs is to begin your own ice cream truck business with a vintage-looking ice cream truck!
Of course, you'll want an efficient modern freezing system and you could plan to sell modern novelties and soft-serve sundaes, but the vintage aura may create a special niche for your business.
So, along with the creamy coolness offered by one of our nation's most famous desserts, bring a taste of history to your next summer event.
Hiring these ice cream trucks will be an extra special treat for your guests!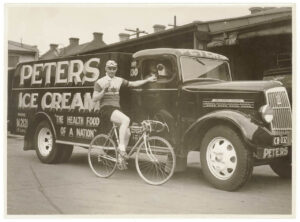 Go back to Ice Cream Truck Main Page
Go to Serving-Ice-Cream.com Home Page from Vintage Ice Cream Trucks