Commercial Soft Serve Ice Cream Makers
New and Used
Looking for commercial soft serve ice cream makers?
Buying a soft serve ice cream machine can cause brain freeze! After years of serving the ice cream community, Serving-Ice-Cream.com has the best commercial soft serve ice cream maker that minimizes costs and maximizes profits, all at a great price!
Contact us today for more information!
Let us know what you are looking for or you can review the following information first before shopping.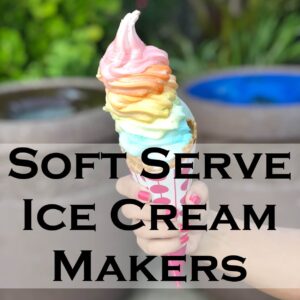 Buying a Soft Serve Ice Cream Maker
If you have an ice cream business that's dedicated completely to selling ice cream…this is probably one of your most important purchases. You need a quality machine that will produce ice cream that causes your customers to keep coming back for more.
If you have another food business, but sell ice cream as part of your wares…well…as an ice cream lover, I still think this is your most important purchase! You need an ice cream machine that can maintain a consistently cold temperature so that it can churn out delicious ice cream with a satisfying texture.
Considerations
There are some things you should take into consideration.
What type of ice cream maker are you looking for? A floor model or a counter top one?
How large is 1 batch of ice cream?
Does it have consistency controls?
Is this machine versatile? Ice cream? Frozen Yogurt? 2 different products – 1 on each side? Can it twist the 2 products?
Is the machine easy to operate?
How quickly can the machine produce ice cream?
Is the machine noisy?
Is the machine easy to clean?
Is the ice cream machine durable? What is it made out of? Stainless steel? Are the scraper blades low friction?
How large is the machine?
How much does it weigh?
How much power will the machine require?
Find Quality Soft Serve Ice Cream Machines
Find the soft serve ice cream machine that best suits your needs.
Nemox Ice Cream Maker: professional ice cream makers for your gelato business.
Whether you're looking for a counter-top model or a floor model, we trust that you were able to find what you were looking for at the price that you wanted too!
If you have a commercial soft serve ice cream maker you would like to sell, please contact us about placing an ad on our site.
Go back to Ice Cream Equipment Main Page
Go back to Ice Cream Business Main Page
Go to Serving-Ice-Cream.com Home Page from Dipping/Display Cabinet and Chest Freezer