Ice Cream Toys
Are you looking for ice cream toys?
Toys related to ice cream are always a winner with kids…because there is not very many kids who don't love this frozen treat.
It's hard to go wrong with a toy centered around this frozen treat.
Ice Cream Toys Available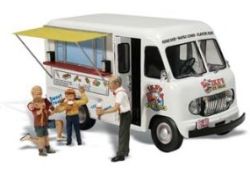 There are many different types of toys available all centered around ice cream.
Ice Cream Games provides endless amounts of fun and can even be educational.
Ice Cream Truck Games are video games centered around the theme of an ice cream truck!
A Toy Ice Cream Truck is always a fun choice. With the many different models of toys with all sorts of different capabilities, you're sure to find one that would suit your child's desires.
There are a variety of children's ice cream makers available that allow your children to make their own ice cream. These ice cream makers include:
These Toys Are Wholesome (So to Speak!)
Although the consumption of real ice cream often requires limitation by watchful parents, ice cream toys provide a calorie-free source of entertainment for energetic kids.
In today's market flooded by toys heavily weighted toward violence, parents are looking for simple, family-friendly toys that they can feel good about giving to their children.
Playing ice cream games and serving up imaginary sundaes in the backyard beats playing video games any day of the week in the minds of many conscientious parents.
These Toys are Timeless
There's something about the idea of enjoying a cold ice cream cone on a hot summer day that brings a feeling of nostalgia and relaxation.
For generations, we have enjoyed playing with toys that remind us of visiting the local ice cream parlor, running out of the house to catch the ice cream truck, or making fresh ice cream at home.
Many of the earliest ice cream-related toys produced in the U.S.A. are still around, treasured as antiques and never failing to draw a smile. In kitchens across the country, you can find toy ice cream trucks and miniature ice cream parlors decorating shelves even when there are no children to be found.
These toys are a tried and true source of fun for kids, and can even be enjoyed by parents claiming to "get the toy for the kids."
But what parent wouldn't enjoy freshly made ice cream from a kids' ice cream maker?
Go back to Ice Cream Gifts Main Page
Go to Serving-Ice-Cream.com Home Page from Ice Cream Toys