The Best Ice Cream Maker for Me
The best ice cream maker is a quality machine that best suits your needs and dreams.
Here are some important things you must consider before laying down the money for your ice cream machine.
First, it's important to be familiar with the basic types of ice cream makers: Rock salt/Ice, Freezer Bowl, Compressor Freezer. Before proceeding, it might be good to brush up on your knowledge of the different types of ice cream machines and how each works.
Here's what you need to consider when choosing from the best ice cream makers. (Remember, though, that these are generalities and there are always exceptions to the rule!)
Quantity: How much do you need to make? To how many people will you be serving ice cream?
One serving of ice cream is considered 1/2 cup. There are 8 servings in 1 quart of ice cream.
Rock Salt/Ice: Some machines can make up to 6 qt at a time
Freezer Bowl: Generally makes 1.5 qt at a time (some more, some less). You cannot make another batch until the freezer bowl is washed and re-frozen (at least 8-24 hours). You can buy a second freezer bowl to solve this problem, though.
Compressor Freezer: Generally makes 1.5 qt at a time (some more, some less). A second batch can be made almost immediately after the first batch comes out.

Freezer method: How does the ice cream machine freeze the ingredients?

Rock Salt/Ice:

On-going expense of buying rock salt and ice
Time-consuming start-up mixing rock salt and ice
Messy clean up

Freezer bowl:

Generally has a "No-Stick Interior" (either polished tin or nonstick; tin interior works just as well if not better than nonstick interior)
Freezer bowl takes up freezer space
Have to plan ahead and freeze bowl before each use if not storing freezer bowl in freezer

Compressor Freezer:

Make batches whenever you want: don't have to plan ahead and buy rock salt or freeze a canister bowl
Does a good job freezing to consistency of hard ice cream
Provides constant cold creating quality, soft, creamy texture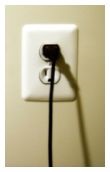 Power Source: How does the ice cream maker run?

Manual Ice Cream Maker (rock salt/ice)

Hand crank ice cream maker: No electricity
If you have a way of keeping ice frozen, you can make ice cream anywhere – even outside on a picnic!
Nostalgic
Less consistent results – hand cranked at varying speeds
Hard work, but can be fun for whole family to pitch in!

Electric Ice cream Maker (rock salt/ice, freezer bowl, compressor freezer)

Motors can wear out because of work load on motor
Some models have safety features to prevent motorburn-out

Ice Cream Maker Time: How much time does it take to churn and freeze the ice cream ingredients?

Ice cream has a smoother texture when it is frozen faster. Also, you will probably be less likely to make ice cream if it takes a long time to make.

It takes most ice cream makers 25-40 minutes to complete a batch.

Your time: How much time are you willing to spend making ice cream?

Manual (rock salt/ice): You must crank the machine
Electric (rock salt/ice, freezer bowl, compressor freezer): After you add the ingredients, the electric ice cream maker works by itself

Price: How much money are you willing to spend for an ice cream maker for you?
Ice cream machines range in cost from $30-700.

Rock Salt/Ice: Generally the cheapest
Freezer Bowl: Cheap to moderate in price
Compressor Freezer: Most expensive

Set-up and cleaning: Is it easy?
Accessories: Extras that help make your ice cream maker the best!

Timer
Automatic shutdown: determines when freezing complete; turns machine off so ice cream doesn't get thicker; prevents motor damage
See-through lid: check on ice cream to see how it's progressing – don't have to turn off machine to check
Ability to add "mix-ins" while ice cream maker is churning
Cannisters that can also be used as an ice cream bucket – this prevents warming and refreezing of ice cream during transfer of ice cream to another container
Various speeds

Warranty: How long is it?

Length indicates quality
Ensures you'll be able to enjoy homemade ice cream for at least that specified period of time!
Do you have a greater idea of what the best ice cream maker for you looks like? Okay! Now let's look at some good brands of ice cream makers and find the best ice cream maker for you!
Go back to Ice Cream Maker Main Page
Go to Serving-Ice-Cream.com Home Page from Best Ice Cream Maker for Me