The Donvier Ice Cream Maker
This post contains affiliate links.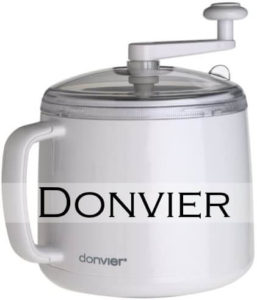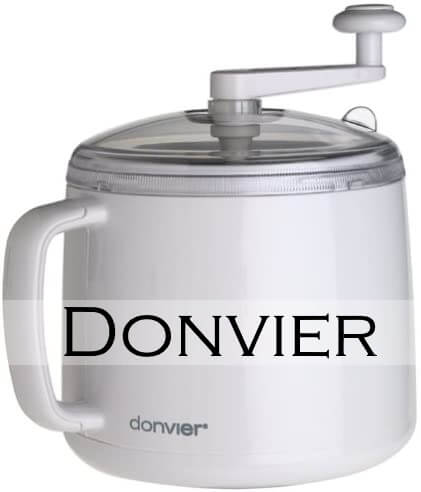 The Donvier ice cream maker has come a long way. With an interesting history and unique style, the Donvier Ice Cream Maker is classic, vintage. "Nostalgia" also comes to mind. And, as an added bonus… it also makes great ice cream, very easily!
Check out the reviews and the price on Amazon here.


Donvier Ice Cream Maker History
The reason that the Donvier ice cream maker is a vintage ice cream maker is because of its history.
From 1984 to 1990, Donvier was produced in Japan by Nippon Light Metal and distributed under Nikkal Industries. Now, it is sold under Browne Group Inc's Cuisipro brand.
But the background story is even more interesting. Let's take a step back…a giant leap actually, to 1983.
David and James Kabler are brothers. James helped produce a strange Broadway performance about Marilyn Monroe. Japanese businessman Den Fujita, however, saw potential in the production and so he invited James to Japan in hopes that the show would find success in Japan.
As they were eating dinner, James was told of a Japanese boy spilling milk on a hollow metal tray that was designed to keep sushi cold. The milk froze instantly. Just as instantly, the idea for the Donvier ice cream maker was conceived. Naturally, Donvier means"chill fast" in Japanese.
So, James sent a business proposal to Den Fujita and the two Kabler brothers started Nikkal Industries. The rest, as they say, is history.
So, are Donvier ice cream makers still made?
Definitely! They are marketed under Browne & Co.'s Cuisipro brand. You can check out the reviews and the price on Amazon here.


Or check out Amazon's entire Donvier selection here. eBay also has a wonderful selection, here.
How do you use a Donvier ice cream maker?
It's a simple concept really. The Donvier ice cream maker requires no electricity, no ice, and no salt! The way it works is that there is a metal bowl that you freeze overnight. You fill it with your completed ice cream recipe and then place it in the plastic bucket. After 20 minutes of cranking the handle every so often, you will churn out a yummy batch of ice cream.
How do I clean my Donvier ice cream maker?
Here is what the manual says…
 After using, wash the freezer cylinder with a sponge or soft cloth in luke warm water with a mild detergent.
Rinse completely.
Store in a dry place or keep in the freezer
NOTE: The Chillfast refrigerant used in the Donvier cylinder is absolutely non-toxic and safe.
Never wash the freezer cylinder in the dishwasher.
Never use a scouring pad.
Never wipe the plastic parts with cleaning solvents.
Never heat the freezer cylinder in any way.
Never handle the frozen cylinder with wet hands.
Never allow children to use without supervision.
Never freeze the plastic parts of your Donvier. Always remove the blade, lid, and handle before placing the Chillfast aluminum cylinder in the freezer.
Can I buy Donvier ice cream maker parts?
Yes! Check out the Cuisiprousa.com website for parts. They sell handles, white lids, white rings, and blades.
Can I get a Donvier ice cream maker manual?
I found one here, here, and here. They will likely be able to help you, but you'll have to print them out yourself.
What is the Donvier website?
The Donvier website is now Cuisiprousa.com since Cuisipro now owns Donvier.
How much is a Donvier ice cream maker?
Depending on the seller, anywhere from $15 to $100. They can be purchased on Amazon or eBay.
Why not see for yourself? You can check out Amazon prices or eBay prices here.
What are some Donvier ice cream maker recipes?
Now, we're getting serious!
Donvier ice cream maker recipes – just what you need if you just purchased a new ice cream maker – or perhaps you've had your ice cream maker for awhile but lost your book. Scroll down below to find some delicious recipes that you can make in your ice cream machine!
Homemade Ice Cream Recipes
All these recipes are compatible for use in your Donvier Ice Cream Maker.
There are 2 ways you can find the recipe you are looking for.
You can search for your ice cream flavor alphabetically or browse through the categories below:
These recipes walk you through the process by giving you step by step instructions, so if you have never made ice cream before, no problem.
If you have a favorite flavor, you can find it here or, if you want, you can try something new and different.
About our Homemade Ice Cream
All of our recipes make about 1 – 1.5 quarts of ice cream. This is a great batch size – but if you want to make a larger or smaller batch – you can just adjust the ingredients accordingly.
Most flavors come with directions to make both a Custard Style and a Philadelphia Style ice cream.
You can make the incredibly rich egg-based custard. Or you can try the simpler Philadelphia style ice cream that doesn't have the eggs but still manages to keep a delicious taste and texture.
Ice Cream Maker Recipes – Find Something You Like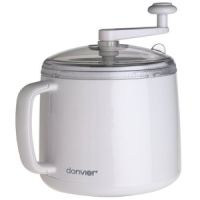 Are you getting tired of the same old flavors you bring home from the store? Are you ready to try something new, different and healthy?
With these ice cream maker recipes you are no longer limited to the flavors carried in the store. You are free to try something new. Whatever you crave, you can make yourself, right in the comfort of your own home.
Make It Yourself and Enjoy
When you get your Donvier Ice Cream machine, you've entered the world of ice cream creation. You can master the basic flavors like vanilla, chocolate and strawberry in a snap. From there you can get creative with fresh fruits and exotic flavors.
You are only limited by your creativity. Be sure to experiment by adding and subtracting ingredients until you get just right.
And after you have made your special homemade treat, be sure to include the toppings such as the sauces (chocolate, caramel, maple syrup, toffee, fudge) and the sprinkles (crushed nuts, jimmys, chocolate chips, crushed cookies, marshmallows).
Anyone who loves ice cream knows that manufacturers of great ice cream have great flavors that they are very proud to feature. But there is something fresh and special about making your own favorite ice cream flavors with your own ice cream maker using Donvier Ice Cream Maker recipes.
Go back to Donvier Ice Cream Maker Main Page
Go to Serving-Ice-Cream.com Home Page from Donvier Ice Cream Maker Recipes