Deni Ice Cream Maker
The Deni ice cream maker produces delicious soft serve ice cream. Here's a helpful, quick overview of Deni and the ice cream machine models they offer.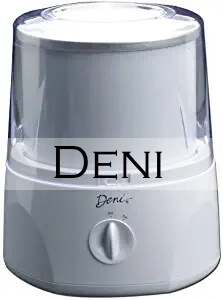 The Deni soft serve ice cream maker is one of the most versatile ice cream machines on the market. This unique frozen dessert maker can turn out a smooth creamy dessert for even those with the most discriminating taste.
Whether your favorite indulgence is ice cream, slushes, or sorbets, turning fruit and other natural ingredients into your favorite frozen treat is easy with the special soft serve spout, making the Deni ice cream machine a must for every ice cream lover's home!
Features of the Deni Ice Cream Freezers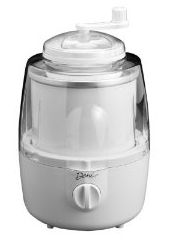 1. Makes an array of hard and soft ice creams and frozen yogurts
2. Canister freezer freezes quickly and completely
3. Folding cone holder stand built in on base for easy dispensing
4. Special spout for serving soft serve with ease
5. Collapsible motor top for efficient storage
6. Sturdy base able to hold large bowls for sundaes
7. Can make 8 – 10 cones at a time
Check out some reviews or by a
Deni ice cream maker
.
Deni Ice Cream Machines
Automatic Deni Soft-Serve Ice Cream Freezer 5540
Automatic making for making soft serve ice cream at home
Produces 1 quart of ice cream in less than 30 minutes with no salt or ice
Soft serve spout for dispensing ease into cone or bowl; base holds cone
Patented freezer canister with aluminum side to support the motor top
Size: 11.4 x 7.5 x 11 inches, 6.6 pounds
This automatic soft-serve ice cream or frozen dessert maker can make sorbets, slushies, frozen yogurt, and a variety of soft-serve ice creams.
No salt or ice is required, just freeze the patented canister, connect it to the maker, add your ingredients, and power up the unit.
The Deni soft serve ice cream maker's powerful motor will work to thoroughly blend, and freeze ice cream quickly.
Automatic Deni Ice Cream Machine w/Candy Crusher
Full automatic ice cream maker with a 40-watt motor
Makes up to 1-1/2 quarts of ice cream with no salt or ice
See-thru lid, anti-slip, cord storage
Candy crusher dispenses candy or cookies into ice cream; includes recipes
Size: 10 x 9 x 14 inches; 7.2 pounds
This oh-so-easy automatic ice cream maker is great for ice cream making, producing up to 1-12 quarts of ice cream in less than a half an hour.
Simply freeze the canister, attach to base and secure paddle, add ingredients slowly, secure the lid, and the unit will blend and freeze ingredients simultaneously for a smooth ice cream or frozen yogurt treat.
Go back to Ice Cream Maker Main Page
Go to Serving-Ice-Cream.com Home Page