Homemade Ice Cream Maker
The Good, The Bad, The Ugly
Okay! So you're thinking about a homemade ice cream maker. You've heard success stories from your friends…you've even tried some of their homemade ice cream and loved it!
But is this appliance right for you? Let's look at some pros and cons for ice cream machines in general.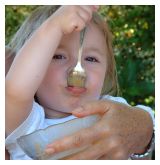 Pros
Taste
Homemade ice cream can satisfy your cravings because you're the cook! You no longer have to hunt for an ice cream that has a little bit more chocolate chips or a little less mint flavoring! With a little experimentation, you can create an ice cream that suits you perfectly.
Health
You can cut back on the sugar, use organic ingredients, use fresh fruit, omit preservatives, add extra calcium…there's no limit! You can make your homemade ice cream beneficial to your family's health.
What about making homemade ice cream without a machine? These recipes often (not always) call for uncooked eggs (a health hazard).

Convenience
An ice cream machine makes ice cream making simple and easy. Prep time usually takes under 10 minutes if you don't have a lot of mix-ins to get ready. If you have an electric ice cream machine, you can let it do the work! Most take about 25-30 minutes…about the same amount of time it takes to run to the store to buy store-bought ice cream!
Making ice cream without this kitchen appliance can be time consuming, messy, and complicated. It's not impossible and there are some simple ice cream recipes out there, but a gadget to help you make ice cream definitely streamlines the process!
Recipe Finding
Homemade ice cream maker recipes are easy to find. The manufacturing company usually provides a little booklet of recipes with your purchase of their product.
In addition, recipes are interchangeable. A recipe that works for one ice cream machine will work for other brands as well.
This site, Serving-Ice-Cream.com is full of delicious recipes you can use in your ice cream maker.
Cons
Price

A good machine can cost between $30-700 depending on the features you want.
Kitchen Space
Any new appliance that you add to your kitchen will take up valuable cupboard or counter space.
The Bottom Line
You are making a good investment if…
…you love serving and eating ice cream!
…you plan on using your ice cream maker regularly!
If you're still interested buying an ice cream machine, the next question is…
What's the best homemade ice cream maker for me?
Go back to Ice Cream Maker Main Page
Go to Serving-Ice-Cream.com Home Page from Homemade Ice Cream Maker Pros and Cons