KitchenAid Ice Cream Maker Attachment
This post contains affiliate links.
The KitchenAid ice cream maker attachment can make wonderful ice cream and is a great choice…especially if you already have a KitchenAid Stand Mixer or want to get one anyway!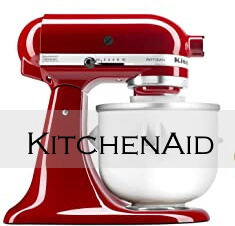 If you don't have one of Kitchen Aid's Stand Mixers, this ice cream maker is still an item you should consider, especially if you're a minimalist and don't like extra kitchen clutter!
If you love to save space and love appliances that can do more than 1 job, then you'll love Kitchen Aid's great food making solutions.
Check out the reviews and the price on Amazon here.


Using a Kitchen Aid Stand Mixer and the right attachments, ice cream is not the only thing you can make! You can grind, slice, juice, make homemade pasta…you can even mill your own grain!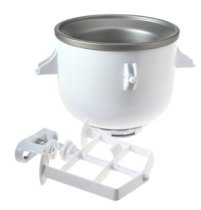 Ice Cream Maker Features:
2 quarts
Double-walled freezer bowl
Ice cream clearly visible while churning for easy monitoring
Mix-ins added straight into bowl while churning
Makes ice cream in 20-30 minutes
Easy to clean: drive assembly, dasher, and bowl adapter ring are dishwasher safe
Recipes included
1 year warranty
This ice cream maker by Kitchen Aid is simple to use and produces quality ice cream.
Simply place the freezer bowl in the freezer and freeze completely.
Once frozen, the freezer bowl evenly freezes the ice cream ingredients as the ice cream is churned.
A dasher, placed inside the freezer bowl, mixes the ingredients and carefully scrapes the edges of the freezer bowl to prevent ice cream from freezing to the edges.
We've teamed up with Amazon to bring you low prices. You can read customer reviews or buy a KitchenAid ice cream maker attachment
.
Check out the reviews and the price on Amazon here.


The Kitchen Aid ice cream maker is a great choice for cooks with a love for multi-purpose appliances or for small kitchens that need space savers!
Looking for recipes for your KitchenAid ice cream attachment? Check out these KitchenAid Ice Cream Maker Recipes.
Go back to Ice Cream Maker Main Page
Go to Serving-Ice-Cream.com Home Page from Kitchen Aid Ice Cream Maker Attachment