Ice Cream Toppings & Mix-ins
As if plain ol' ice cream wasn't good enough…along comes ice cream toppings and mix-ins…additions that make ice cream irresistible to even the most "ice-cream-resistant"!
The difference between toppings and mix-ins? As their names imply, toppings are sprinkled on top of ice cream and mix-ins are stirred right into the ice cream.
Adding Mix-Ins

Scoop out 1 or 2 servings of ice cream onto a clean flat surface.
Flatten the ice cream to form a relatively thin layer.
Sprinkle your desired mix-ins on top of the ice cream.
Using 2 forks (1 in each hand), quickly stir the mix-ins evenly throughout the ice cream.
Place ice cream in bowls or cones and serve immediately.
Please note: ice cream will melt quickly during this process. It is best to do your mixing on a stone or aluminum tray that has been chilled in the freezer.
If you're making ice cream in an ice cream maker, simply add the items during the last few minutes of mixing.
Preparing Ice Cream Toppings and Mix-Ins
Chopped items: use cutting board and sharp knife
Crushed items: place in clear Ziploc bag, crush with the heel of your hand, rolling pin, or small hammer
Crumbled items: break into small bits with your hands
Dough: make according to normal baking directions, omit eggs, roll into small balls
Fruit: fresh fruit is best, but frozen or canned is possible; add sugar to fresh and frozen fruit
Size: mix-ins must not be too large if using an ice cream maker
Ideas for Ice Cream Toppings and Mix-Ins
Chocolate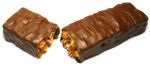 Chocolate Chips
White Chocolate Chips
M&Ms
Chopped Chocolate Bar: any kind
Crushed Oreo Cookies
Crumbled Fudge
Crumbled Brownie
Chopped Walnuts
Chopped Pecans
Chopped Almonds
Chopped Macadamias
Pralines
Fruit
Blackberries
Blueberries
Raspberries
Cherries
Chopped Strawberries
Chopped Peaches
Chopped Pineapples
Pie Filling: any kind
Other Treats

Coconut
Mini Marshmallows
Mini Gumballs
Sprinkles
Crushed Life-Savers
Gummy Bears/Worms
Cookie Dough
Crumbled Graham Cracker Pie Crust
Crumbled Cheese Cake
Syrups & Sauces
Chocolate
Caramel
Butterscotch
Is your mouth watering yet? With these ideas and some of your own, you can create decadent ice cream sundaes and specialty ice cream flavors – right in your own home!
Go back to Ice Cream at Home Main Page
Go to Serving-Ice-Cream.com Home Page from Ice Cream Toppings