Peanut Butter Sauce for Ice Cream
Peanut butter sauce for ice cream is a delicious treat. You can easily have it by simply buying it or by making it with our recipe.
Ice cream is a favorite treat for many people whether it is a store brand in a basic flavor such as vanilla, strawberry or chocolate, a high end flavor such as Macinac Island Fudge, Red Velvet Cake or Cherry Garcia, or perhaps a rich batch that's been laboriously hand cranked in the back yard.
There is no end to the imagination and ingredients that go into products for the ice cream market.
It's easy to bring that same creativity to your home by preparing special toppings to go on your favorite flavor of ice cream.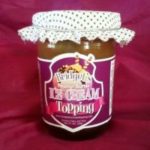 Would you like to have some recipes on hand for peanut butter sauce for ice cream that are easy to prepare and will have you relaxing after only a few minutes?
Easy Peanut Butter Sauce Recipe
Ingredients
1 cup of chunky peanut butter (any brand is fine)
Up to 1/3 cup of milk (2% or whole) (less milk will make a thicker sauce)
1/4 cup of honey
Pinch of cinnamon
Directions:
Heat the first three ingredients on low, stirring constantly until it is smooth and creamy.
Add the cinnamon to taste and serve warm.
Five Minutes or Less Peanut Butter Sauce
Ingredients:
1 cup peanut butter chips
Up to 2/3 cup heavy cream (depending upon how thick you want the sauce to be)
1/4 tsp vanilla extract
Directions:
Melt the chips along with the cream over low heat, stirring constantly until the chips are melted and the mixture is smooth.
Stir in the vanilla.
Cool to room temperature and serve.
Store Bought Peanut Butter Sauce for Ice Cream
If you'd rather just buy your peanut butter sauce, then there are a lot of different options available. They're delicious, gourmet, and addicting.
Choose your favorite!
Toppings to Include with Peanut Butter Sauce:
These peanut butter sauces go great with many different flavors and additions such as chopped up peanut butter cups, mini chocolate chips, crushed malted milk balls, chopped turtles, or marshmallow cream.
Wow your guests with the wide variety of ice cream flavors and toppings that you feature.
They'll be especially impressed with your homemade or store-bought sauces.
Enjoy the party!
Go back to Homemade Ice Cream Main Page
Go to Serving-Ice-Cream.com Home Page from Peanut Butter Sauce for Ice Cream