75+ Easy Deni Ice Cream Maker Recipes – Delicious!
Deni ice cream maker recipes – lots of flavors to tempt your taste buds and recipes to make them easily!
Homemade Ice Cream
Right here, you'll find a great variety of homemade ice cream recipes. You can search for Deni ice cream recipes alphabetically or by the categories below:
Home-made ice cream is a delicious way to enjoy ice cream and creating unique flavors is one of the many benefits of owning an ice cream maker.
About our Homemade Ice Cream
Our recipes make for about 1 to 1 1/2 quarts of ice cream, which is just the right amount for Deni Ice Cream Makers.
We've included both Philadelphia and Custard versions of our recipes for your convenience.
Philadelphia versions (recipes without eggs) are found at the top of the page, while the custard versions (recipes with eggs) are found below.
Note – Philadelphia-style recipes have reduced sugar and fat. While cutting the fat and sugar content does not affect the taste or texture of the ice cream, adding extra sugar or using milk with a higher fat content will produce a creamier ice cream.
These recipes will help you make tasty ice cream that will wow your friends and family.
About the Deni Ice Cream Maker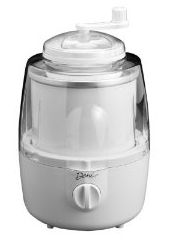 There are several different brands of Deni Ice Cream Makers. Each one comes with its own set of features.
Deni's ice cream machines can make a variety of soft-serve and hard ice creams.
The canister freezes the ice cream quickly and the Deni Ice Cream Maker can produce ice cream to fill 8-10 cones.
Several aspects of the Deni Ice Cream Maker increase its convenience: the folding cone holder on the base makes dispensing cones easy, the special soft-serve spout helps to serve ice cream, the motor top is collapsible for easy storage, and the base can even hold large bowls for sundaes!
Deni Ice Cream Makers are automatic for fast and easy operation.
The Automatic Deni Soft-Serve Ice Cream Maker 5540 can produce a quart of ice cream in 30 minutes.
The Automatic Deni Ice Cream Maker w/Candy Crusher comes with a built in candy crusher that dispenses crushed candy or cookies directly into the mix.
With a Deni Ice Cream Maker and our recipes, you can be making delicious, one-of-kind ice cream in no time at all!
Go back to Deni Ice Cream Maker Main Page
Go to Serving-Ice-Cream.com Home Page from Deni Ice Cream Maker Recipes