75+ Easy White Mountain Ice Cream Maker Recipes – Love it!
Looking for delicious White Mountain Ice Cream Maker Recipes?
Look no further!
Find the best of the best here and enjoy cool, refreshing, delicious homemade ice cream fresh from your very own White Mountain ice cream maker freezer.
Homemade White Mountain Ice Cream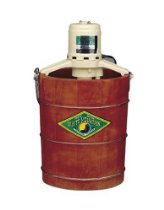 You can search for White Mountain ice cream recipes alphabetically or by the categories below:
About our Homemade Ice Cream
These recipes make about 1 – 1.5 quarts of ice cream – perfect for all White Mountain Ice Cream Makers. If you have the Rural King White Mountain 6 Qt Electric Ice Cream Maker F69206-X you will want to triple the recipe. For the Jarden F69204-X White Mountain 4-qt. Wood Ice Cream Freezer, you may double the recipe.
Philadelphia style recipes (recipes that do not contain eggs) and Custard style recipes (recipes that do contain eggs) are both included. Philadelphia style recipes are located at the top of the page; Custard style recipes are below.
Both the sugar and fat have been reduced in the Philadelphia Style recipes without sacrificing taste or texture. If you'd like to add extra sugar or use milk with more fat, it will produce a creamier ice cream.
About the White Mountain Ice Cream Maker
Remember those great old fashioned wooden ice cream makers? The White Mountain Ice Cream makers are made in that old time tradition.
The White Mountain company has been making ice cream freezers for over 100 years, producing quality machines for the ice cream lover.
You can enjoy the nostalgia of hand cranking your creamy, smooth ice cream or opt for the electric White Mountain Ice Cream machine option.
Expecting a crowd or hoping to wow the family at the next reunion with your homemade ice cream? The White Mountain Ice Cream makers come in 4 quart or 6 quart options.
These larger than average ice cream makers produce at least two to three times the ice cream of today's average ice cream maker.
Enjoy using a classic White Mountain Ice cream maker recipes at your next event!
Go back to White Mountain Ice Cream Maker Main Page
Go to Serving-Ice-Cream.com Home Page from White Mountain Ice Cream Maker Recipes