All Things Ice Cream
by Heather
(All Things Ice Cream)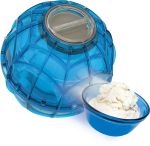 All Things Ice Cream: Great products and delicious homemade ice cream!
Bio
Name: Heather
Favorite Homemade Ice Cream: Chocolate Coconut
Favorite Ice Cream Brand or Store: Turkey Hill or Blue Bunny
Most Exotic Ice Cream Flavor You've Ever Tried: I wouldn't call it exotic, but I've made pumpkin pie coconut ice cream.
What is the background of your blog?
I started the All Things Ice Cream blog to compliment our website www.AllThingsIceCream.com. We chose the name "All Things Ice Cream" because we wanted to focus on ice cream makers and ice cream accessories. Our blog provides a way for our customers to find a recipe to use with the products we offer for sale.
What sets All Things Ice Cream apart from other blogs on ice cream?
At our blog we like to find creative and unique ice cream recipes. You won't find too many "plain vanilla" or "simple chocolate" ice cream recipes. You're more apt to find jalapeno ice cream or coconut-curry sorbet. We like to keep it interesting and post ice cream party ideas as well.
What are some good ice cream making tips that you've used to make delicious homemade ice cream?
I've found that using a heavier cream or coconut milk makes the fastest ice cream (& the tastiest).
I would encourage people to taste the ice cream mix before you ever put it in the ice cream maker. Once it starts to freeze you can't add more sugar!
Can you give us some helpful hints on how to plan an ice cream party easily?
Ice cream parties can be as simple as buying ice cream or making it at home ahead of time and laying out toppings for the guests to make their own sundaes. But we've found that the best ice cream parties are the ones where everyone is involved in the ice cream making process. Using an ice cream ball (or two) to make the ice cream gives the guests something to do other than eating ice cream at the party. Kids, especially, enjoy the process of making their own ice cream to enjoy at the sundae bar. It gives them a sense of accomplishment as well as entertaining and feeding them.
Your blog promotes the ice cream ball, do you have any fun activities or games you can play while making ice cream with this ball?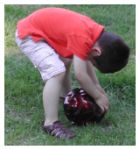 A great game to play with the ice cream ball is ice cream bowling. Set up plastic pins (or even empty soda bottles) and let the kids take turns rolling the ball at them. A few strings of ice cream bowling is all it takes to
make ice cream
in the ball.
Tell us about the Light-Up Ice Cream Ball you've developed…it sounds incredible!
We acquired a lighting system that we could use in the ball. So now as soon as you add the ice and it starts to melt, the lights are activated and rotate through several colors. When you're done, the lights are completely removable so you can wash the salt off them and store them to be used again. Check out this video to see it in action!
Any final tips you can share with us about making, serving, or selling ice cream?
Ice cream making doesn't have to be overly complicated. You'd be surprised how
delicious a couple cans of coconut milk, some sugar & cocoa taste. If you're serving ice cream at a special event you can find many great ice cream serving trays & dishes to display everything in. The ice cream theme is the easiest
one to elaborate on at any party.
Ever checked out All Things Ice Cream? Rate this blog and let us know your thoughts!