What Brands of Ice Cream Are Vegan? Delicious!
If you enjoy ice cream, there are several vegan ice cream options available. This informative article highlights the best vegan ice cream brands to enter the market. These ice cream brands are ideal for millions of people who live a dairy-free, vegan diet.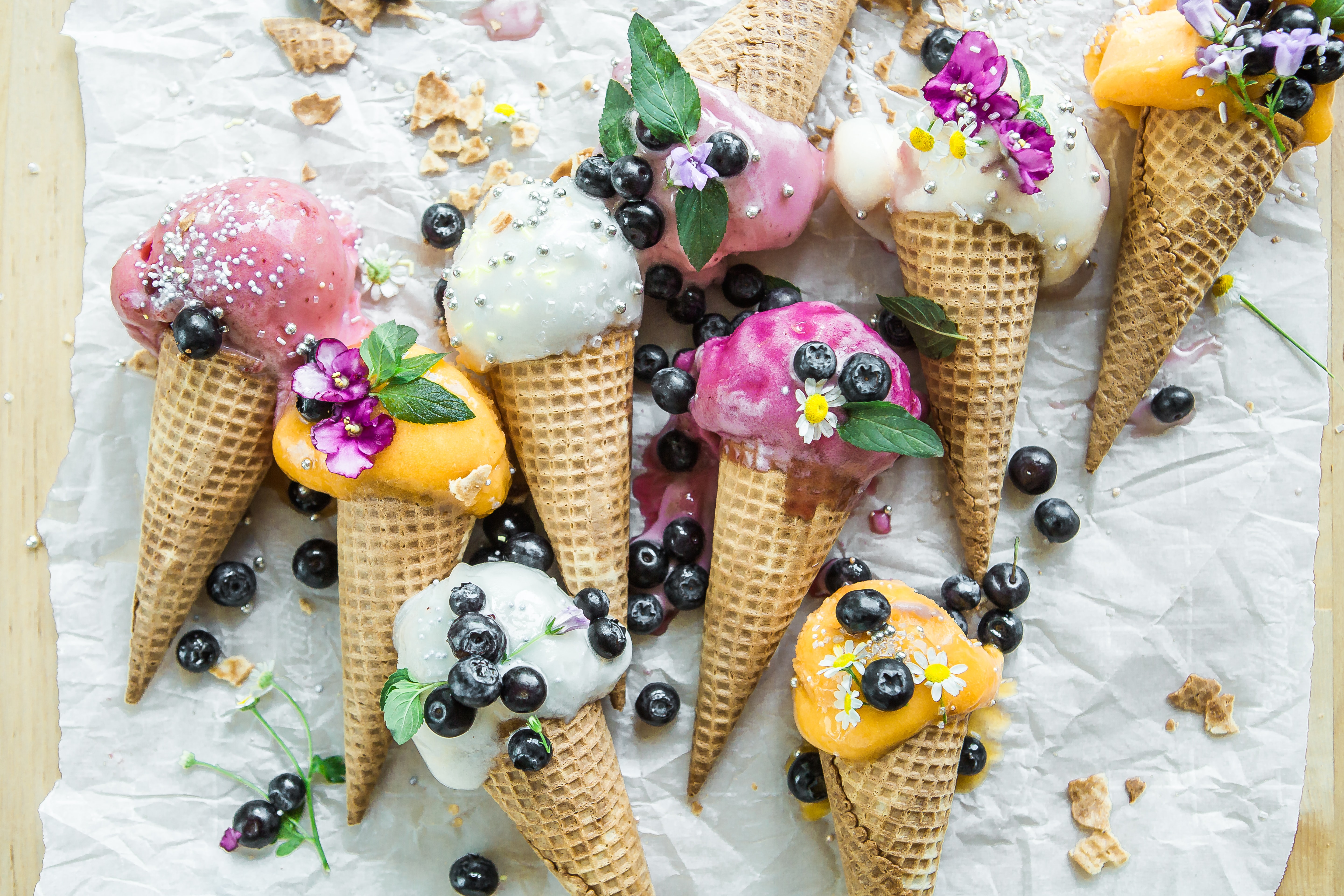 How do you know if an ice cream brand is vegan?
To know if ice cream is vegan, go through the ingredients list. The following components make up the base of the majority of vegan ice creams:
Dairy-free milk derived from almonds, soy, or coconuts.
The flavor is derived from strawberry, chocolate, mint, or vanilla.
A sweetener like sugar or agave.
Foods with texture, like oats, cookies, chocolate pieces, nuts, or fruit
So, what brands of ice cream are vegan?
Coolhaus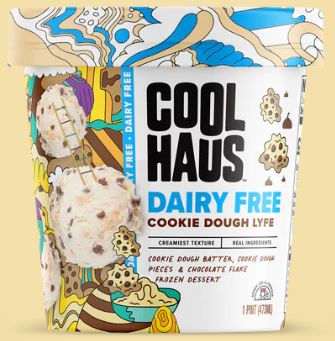 When we talk of passion meeting deliciousness, Coolhaus has got it! The ice cream makers are passionate about creating delectable treats with pure, natural ingredients so you can indulge. Their line of dairy-free products comes in a wide variety of tasty tastes and is prepared with a special combination of sugars and plant-based proteins.
The main ingredients for their vegan ice cream are pea protein, brown rice, and cane sugar. You won't ever miss dairy again with these fantastic blends. Some of the Coolhaus flavors include mint, chocolate cookie crumb, cookie dough, dirty mint chip, etc.
Eclipse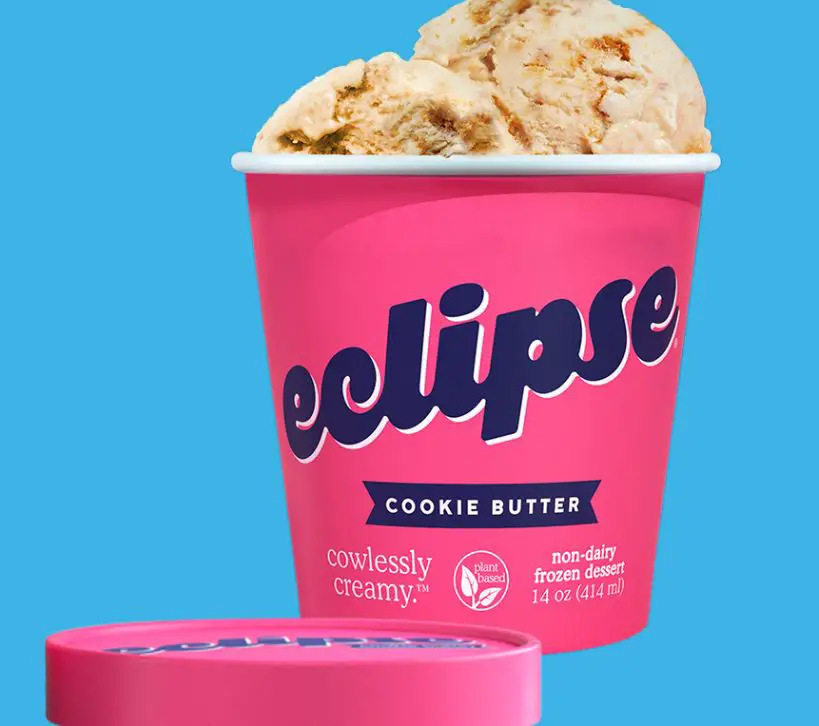 Eclipse makes vegan, cruelty-free, plant-based ice cream. They are wholly committed to making vegan ice cream. They are completely devoted to making it vegan, and it shows. Eclipse pints are the closest thing you'll get to the rich, creamy texture of cream-based ice cream, thanks to a special combination of macronutrients designed to mimic dairy.
The main ingredients are tapioca, starch, and potato protein. Ice cream flavors include chocolate, cookie butter, mint chip, mango passion fruit, dark chocolate peanut butter, vanilla, cookies and cream, strawberry, caramel butter pecan, etc.
Ben & Jerry's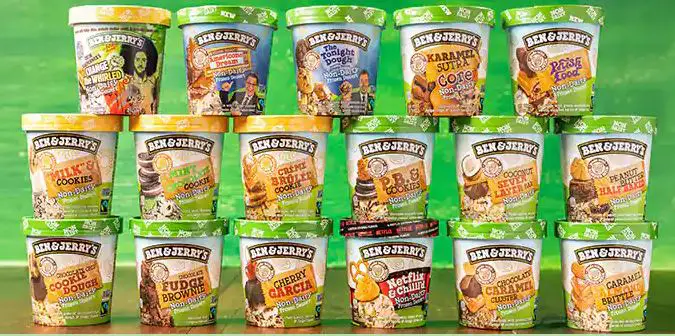 Since its 1978 debut in a Vermont gas station, Ben & Jerry's has come a long way. One thing that has remained constant over time is the love of delectable ice cream. What's better is that the ingredients used to create each vegan ice cream flavors are fair trade and non-GMO. Almond milk or sunflower butter are the main ingredients. Flavors include phish food, peanut butter and cookies, fudge brownie, coffee caramel fudge, and caramel almond brittle.
Nick's Ice Cream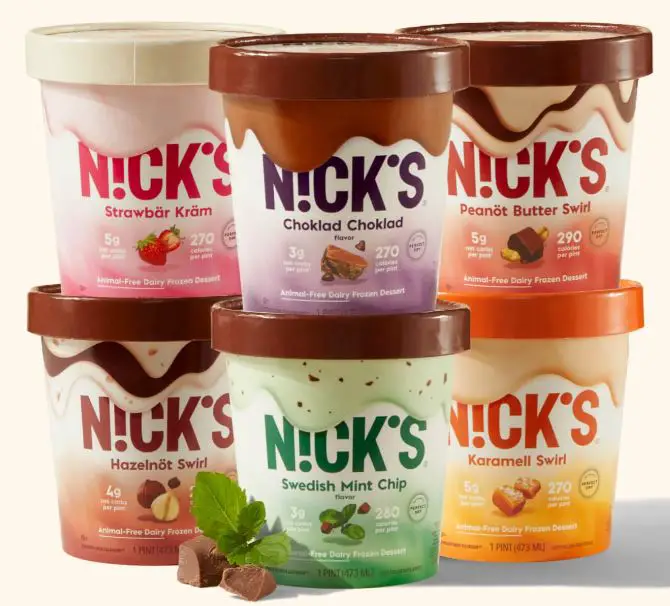 What's not to love about low-calorie, vegan ice cream brand that's made in the Swedish tradition delivered right to your door? Compared to the other brands on this list, Nick's is unique. For starters, they employ natural, calorie-free sweeteners in all of their goods. And even though it doesn't come from animals, their vegan ice cream has milk protein!
This ice cream is a union of science and nature. Together, they produce deliciously creamy vegan ice cream that has a little percentage of the sugar found in typical ice creams.
The ice creams are plant oil-based. Flavors include peanut butter fudge, chocolate, strawberry, hazelnut fudge, vanilla, mint chip, caramel and so on.
Halo Top

Halo Top is determined to make low-calorie dairy-free ice cream as delicious as classic soft serve. Additionally, they include enough flavor without a lot of sugar or fat because they are prepared with healthy natural ingredients. If you are looking to enjoy low-calorie ice cream, Halo Top is an excellent choice. Coconut milk is the main ingredient.
Flavors include: Chocolate, salted caramel, candy bar, peanut butter, Birthday cake, cookie dough, and chocolate almond crunch.
So Delicious

For more than 30 years, So Delicious has been waging the good fight in the dairy-free community. They have developed various delectable vegan products, from desserts to cheese. Of course, we adore this vegan ice cream brand because of its vegan ice cream. They have produced ice creams manufactured with various bases, including almond and oat milk.
These ice creams contain only certified vegan and GMO-free ingredients. They always utilize organic coconuts and prioritize protecting the environment while choosing ingredients and production procedures. The basic ingredients are cashew, coconut, oat, soy, and almond milk.
Flavors include; no-sugar-added vanilla, Banana foster, peanut butter and raspberry, snickerdoodle, and many more.
Van Leeuwen Ice Cream

Although Van Leeuwen began as a regular creamery, it has since expanded to offer over 16 fantastic nondairy ice creams. The Van Leeuwen Ice Cream is incredibly creamy and flavorful and is produced with natural ingredients that will make you smile. The vegan options are made from nuts like cashew, coconut, and oats and blended with natural ingredients like cocoa butter and cane sugar. Some flavors are: brown sugar chunks, pumpkin cinnamon roll, Rocky road, passion fruit layer cake, and many others.
Cosmic Bliss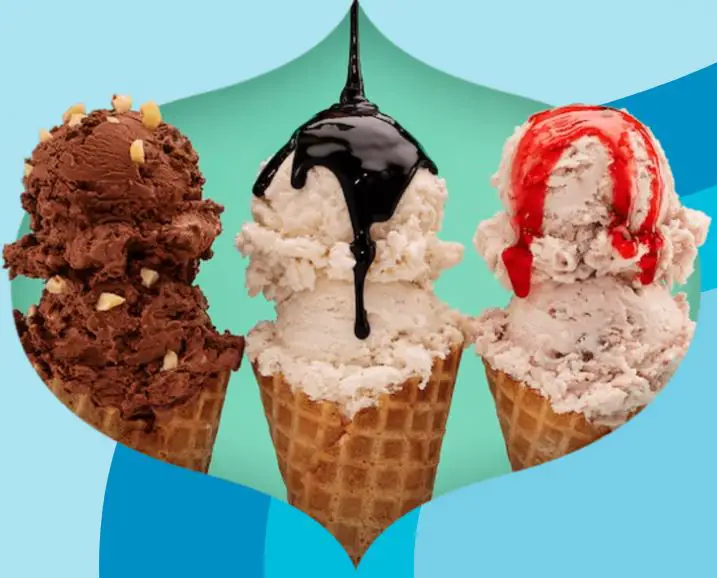 Numerous names have been given to Cosmic Bliss. The company was originally known as Luna & Larry's until changing its name to reflect its most popular flavor, Coconut Bliss. They've changed their name once more to Cosmic Bliss. The business continues to uphold its founding ethos of making coconut-based ice cream that is healthier, simpler, and better for both people and the environment. Cosmic Bliss comes in a variety of flavors. These are: infinite coconut, cherry amaretto, Chocolate walnut brownie, banana, and more!
NadaMoo

The organic coconuts used to make each pint of NadaMoo simply need rainwater to grow. And biofuel is made from the husks. No refined sugar is used to sweeten this coconut cream base; instead, pure agave syrup is used. Along with the traditional flavors, NadaMoo also offers some deliciously inventive variations. All twenty-plus varieties are vegan, made entirely of plants, and produced using zero-waste principles and ecological methods.
These ingredient lists contain some amazing whole foods, such as organic peanut butter, organic cocoa powder, and organic vanilla beans. Coconut milk is the main ingredient. Flavors include: peppermint bark, mint ice cream, Birthday cake, caramel cold brew, strawberry cheesecake, cookie dough, and so on.
Craig's Vegan Ice Cream

Based in the Los Angeles area, Craig's uses organic vegan chocolate and whole-crushed strawberries as natural flavorings in their five timeless flavors, all of which are made with cashew milk. Some flavors include Kursten's PB Krunch, Melrose Mint Chip, Sunset & Strawberry. Simply yummy!
Conclusion
The days of selecting from a small selection of tasteless, chalky dairy-free ice creams are over. There are now dozens of options for vegan ice cream brands, and most of them are mouthwatering. Try out some of vegan ice cream brands this list, and you will not be disappointed!
Go back to our FAQ page from What Brands of Ice Cream are Vegan
Go to Serving-Ice-Cream.com Home Page