Ice Cream Truck Rental Los Angeles
An ice cream truck rental (Los Angeles) may be hard to find. We'll help you find a truck for rent. We'll also help you determine if thie ice cream truck is going to suit your needs.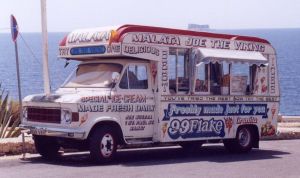 Ice Cream Truck Rental Los Angeles: Who Benefits from Renting an Ice Cream Truck?
Who Might Benefit from Renting an Ice Cream Truck in Los Angeles?
Are you interested in offering ice cream for a special event but want someone else deal with the actually serving the ice cream? For large events, you may want to consider truck rental. Los Angeles has a wide variety of companies that offer ice cream truck rentals and other related services for your special events. You probably remember a time when an ice cream treat turned into a big sticky mess.
The younger the people at the party that you're hosting, the more likely it is that you would rather dish out the responsibility for scooping ice cream and maintaining a clean serving station.
Thankfully, in Southern California you have a number of companies who offer ice cream truck rental: Los Angeles area graduation parties, birthday parties, corporate and sporting events are all awesome opportunities to bring in some ice cream.
What Factors Should I Consider in Renting an Ice Cream Truck?
Number of Guests: If you plan on having over 100 guests, you may want to consider an ice cream truck rental rather than an ice cream cart rental. Ice cream trucks are for those parties that serve a large number of guests within a short time-frame.
Timing: Ice cream trucks in Los Angeles are typically available per hour or per day. Make sure you understand the total fees involved — including this would include dry ice fees and other service fees associated with the truck rental. Ice cream trucks may be staffed by a single individual or teams of staff members. As you plan for the truck rental, you may want to request some references from other customers.
Clean Trucks!: Make sure that the trucks are clean and well-maintained, the drivers are prompt, the service staff is professional, and the supplies are adequate for the number of guests you expect. As with any large social function, guests may have a variety of food allergies including dairy intolerance and sensitivity to nuts. Be sure to have many options available at the ice cream truck so your guests can enjoy a cold treat that works with their dietary needs.
For those concerned about the environmental effects, many ice cream trucks have been up-fitted to be eco-friendly and have separate systems to keep the ice cream cold without requiring the engine to be run for hours on end. At large events, ice cream is a great treat whether you are outdoors or indoors. So we have a large number of people to serve, think about contacting some of the following ice cream truck rental Los Angeles area companies.
Go back to Ice Cream Truck Rental Main Page
Go back to Ice Cream Truck Main Page
Go to Serving-Ice-Cream.com Home Page from Ice Cream Truck Rental Los Angeles