Ice Cream Truck for Sale
Trying to find an ice cream truck for sale?
You need to find a quality vehicle at a reasonable price. No problem!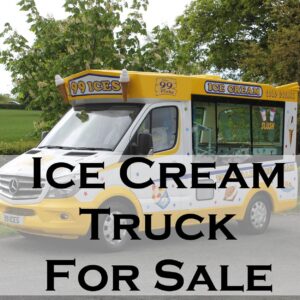 Info to Help You Find the Best Vending Vehicle
Buy an Ice Cream Vehicle: Our Buying Guide helps you to know what to look for when buying an ice cream van or truck.
Buy a Used Ice Cream Truck: How to buy a used ice cream truck and where to find it.
Ice Cream Truck Price: How much should you pay for your ice cream vehicle? What factors play a role in the price?
Buying an Ice Cream Truck
Ice Cream Truck Sales: Find ice cream trucks for sale in your area.
Mobile Catering Trailers: Buy mobile catering trailers for your business.
Ice Cream Vans for Sale: Find ice cream vans in the UK.
Specialty Ice Cream Trucks
Cushman Ice Cream Truck – US
If you are looking to start your own ice cream truck business, one of the first steps is investigating some ice cream trucks for sale.
Where To Find an Ice Cream Truck
This very specialized type of vehicle can be hard to find in the normal auto sales market and the number of individuals looking to sell a used truck is very small.
Even though the search may be difficult, don't give up. At the bottom of the page you can browse some vehicles – both new and used that are currently available.
Of course finding a truck for sale in your local area is convenient – but you may have to do a little bit of travelling to acquire a truck that suits your needs.
Don't settle for less than what your business demands. Your business depends on it.
Food Service Equipment on Your Ice Cream Truck
A factor to consider when looking for an ice cream truck for sale is not only its mechanical capabilities, but also the equipment needed for the food service aspect of your business.
As a vendor of food to the public, it will be your responsibility to ensure that your product is safe to eat, not to mention delicious and in high demand every time you show up in the neighborhood.
A reliable, energy-efficient ice cream freezer is one of the main items that you will need to either acquire along with the truck or else buy.
Ice cream truck drivers generally agree that a broken freezer is one of the quickest ways to lose money and waste a lot of ruined, melted ice cream!
For more information on what other equipment you might need, refer to our Ice Cream Truck Accessories Guide.
Help Finding an Ice Cream Truck For Sale
If you are starting to feel like finding a well-built ice cream truck and stocking it with the right equipment is a tough job, you are not alone.
It's a different story from buying a new family car and it can even be harder than other types of initial business investments.
The ice cream truck that you choose will be your office, job site, transportation, and advertisement all at the same time.
It is critical to your business that your truck be both functional and attractive and that you can rely on it to get the job done whenever you travel your route. Finding a good ice cream truck for sale may be the most important first step you take toward a successful business.
Go back to Ice Cream Truck Main Page
Go to Serving-Ice-Cream.com Home Page from Ice Cream Truck for Sale