Transformer Ice Cream Truck
The transformer ice cream truck. Are you a Transformers aficionado? Do you collect Transformers memorabilia? Then you need to have the Transformers truck to complete your collection.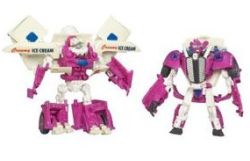 This miniature toy that fits in the palm of your hand is made by Hasbro and is relatively inexpensive.
Although it plays a small role in the movie, the ice cream truck transformer will be a huge and fun part of your collection. This is not a movie that we endorse or recommend.
The Transformer Ice Cream Toy
The Transformer ice cream truck toy is a bright pink and off-white color combination and definitely "more than meets the eye."
It is made of plastic and has tabs that allow you to securely join the two halves together.
It has the Autobot symbol on the back and "Creamy Ice Cream" across the top on the Mudflap half of the vehicle.
Over the front wheel fender, it reads "Made Fresh for You"; this is on the Skids half and a favorite saying of his, but it does not have any words across the back of the truck as it did in the movie.
When transformed into their separate Autobot identities, the twins do not have any toy weapons to complete their transformation; however, there is much to do with these "robots in disguise."
The transformation process is somewhat complex, but there are actually YouTube videos that demonstrate the process step by step and start to finish, from Autobot twins to the ice cream truck.
The Transformer Ice Cream Truck and the Movie
This ice cream truck transformer is from the second Transformers movie Revenge of the Fallen.
Twin Autobots, Skids and Mudflap come to Earth and take the form of an old, run-down ice cream truck. The twins are the result of a split spark and thus closely connected. Though they can each take on the form of a smaller vehicle, they tend to work better when they combine to make one larger vehicle.
Both are eager but argumentative and very noisy; their tussles often get them in trouble and keep them from being much help in defeating the Decepticons.
During a high-speed chase in Shanghai, the twins come apart after taking a corner too fast; they are unable to keep up the chase. Thereafter, they are given individual transformer identities.
Transformers Collections
As has already been noted, no Transformers collection would be complete without the ice cream truck.
Though it is too soon to tell the value that this toy will have in the future, we know that since Hasbro bought the rights to Transformer molds and brands in 1984, Transformer toys have been much sought after.
Not only will you have an enjoyable toy in your Transformer ice cream truck, but you will also have a collector's item.
Go back to Ice Cream Gifts Main Page
Go back to Ice Cream Truck Main Page
Go to Serving-Ice-Cream.com Home Page from Transformer Ice Cream Truck