Ice Cream Franchise Opportunities
Ice Cream Franchise Information
Looking for ice cream franchise opportunities? You can find specific ice cream franchise information on our main franchise page. Right now, let us help you understand the concept of franchising and help you figure out if this fun business model is right for you.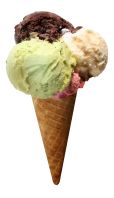 Is a Franchise Right for You?
Are you looking for a career change, want a second business, or worried that now that you're going to get bored now that you're retired?
Are you a self-motivated person?
Do you have some money to invest in a franchise?
Can you follow rules and systems?
Do you enjoy working with people?
Do you have management and training experience?
Do you have sales experience?
If you have a family, will they support you in this business venture?
Franchising: Plan for Success – Gather Information
Know what it costs to start (watch for hidden costs).
Know how much it costs to run.
Know how much the typical franchisee profits.
Talk to people who already own a franchise – both content and discontent franchisees.
Beware of brand new franchises since they haven't established a long track record of success.
Beware for franchises where the market is overcrowded…if there's already 20 ice cream shops in your little town – can your community really support yet another one?
Pros of Franchising
The franchise has already established itself as a successful business – it's worked in many other places and its popularity is growing.
Franchises don't fail as easily as business' grown from scratch -they're not an experiment; they follow a business model that has worked.
The franchise is already known and loved by customers – it has successfully branded itself. The very name of the franchise and its products will attract customers (who doesn't know and love Ben and Jerry's), but a mom and pop ice cream business has to grow customer loyalty themselves.
You benefit from the franchise's marketing.
You can start a business quickly since you do not have to build it from scratch.
Cons of Franchising
You have to follow the franchises rules exactly. There is no room for creativity on your part.
You need to have money available to invest in the franchise before you start one.
You are bound by a contract.
It can be more expensive than starting your own.
So what do you think? Still interested in an ice cream franchise? As with anything, the best way to be successful is to gather as much information as you can. From there you can make a calculated, informed decisions on what is the best path for you to take.
So take a look at all the different ice cream franchise opportunities available on this site or you can also find more helpful information here. It is wise to get as much information as possible before making a big decision.
Go back to Ice Cream Franchise Main Page
Go to Serving-Ice-Cream.com Home Page from Ice Cream Franchise Opportunities