Best Chocolate Ice Cream Recipe (+ Videos)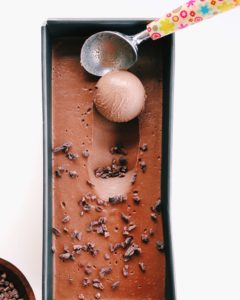 Creamy…it has to be CREAMY! Well, this chocolate ice cream recipe is just that, and more! It's filled with that chocolate flavor you crave. Who would have thought that 7 simple ingredients could be mixed together to churn out this deliciously rich and chocolatey treat. Let's discover how to make it!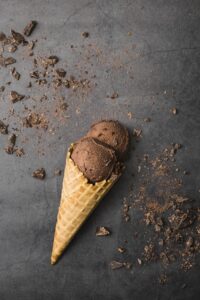 Is This Chocolate Ice Cream Recipe Better With or Without Eggs?
With eggs, no question, but NOT raw eggs. You have to "temper" the eggs. This is where you pour some of your hot liquid into the eggs (in a thin stream), whisking as you pour. Then pour the mixture back into the saucepan and gently cook until it thickens. Don't worry about it; it's not that hard.
Here's a quick video on what it looks like.
Can I Add Mix-ins to Chocolate Ice Cream?
Yes, of course! You can add mix-ins while the ice cream is processing. This can include chocolate chips (yes! more chocolate), nuts, or fruit, you name it. Just make sure that you don't put any mix-ins that are bigger than a chocolate chip into your ice cream maker. If your chunks are too big, you can damage your ice cream maker. That's not good!
How Do You Make Chocolate Ice Cream Taste Better?
With toppings! You can also dress it up with toppings for a delicious chocolate sundae. You can add sauces: chocolate, caramel, or fruit based. Whip cream adds a fancy touch and a complimentary texture. Sprinkles, nuts, fruit, and shaved chocolate are other great ideas that can be added.
A custom made chocolate sundae always hits the spot. Yes, chocolate ice cream can be made even more tantalizing by adding toppings or mix-ins.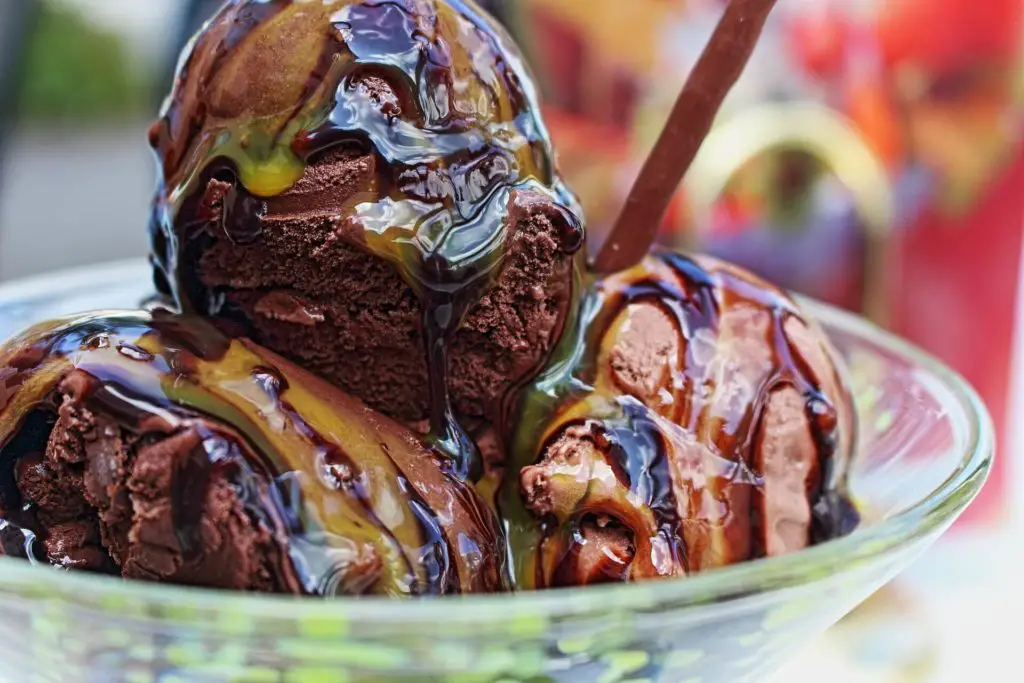 What are the Ingredients for Chocolate Ice Cream? What Do You Need?
Unsweetened chocolate: This recipe calls for 2 oz of unsweetened chocolate. It's unsweetened but the 1 cup of sugar we're adding more than makes up for the lack of sweetness in the chocolate!
Cocoa powder: Naturally unsweetened, this is your main chocolatey flavor in your chocolate ice cream.
Milk: It's best to use whole milk. The more fat, the creamier the recipe
Large Eggs: These are not raw eggs, they are "tempered." You can watch the video above on tempering eggs, or when you begin to make the recipe, simply pour the hot liquid into the bowl of raw eggs and then pour that diluted mixture back into the hot liquid.
Sugar: Sugar adds texture and flavor. It keeps the ice cream from forming large ice crystals in the ice cream. The sweet stuff!
Heavy Cream: Heavy cream adds fat. Fat adds not only flavor, but texture. Creamy!
Vanilla: Vanilla adds a little extra flavor. Don't forget it!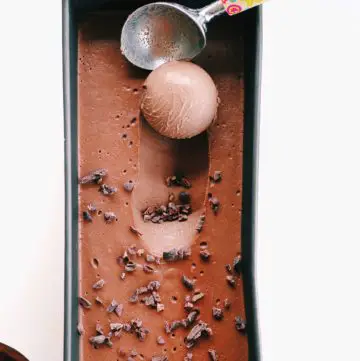 Chocolate Ice Cream Recipe - With Eggs (Creamier!)
Custard / Cream Style
Simple and creamy - the chocolate lovers dream for an easy ice cream recipe.
Makes 1 quart of ice cream.
Ingredients  
1/3

cup

unsweetened chocolate

2 oz

1/3

cup

cocoa powder

unsweetened

1 1/2

cup

milk

2

eggs

large

1

cup

sugar

1

cup

heavy cream

1

tsp

vanilla
Instructions 
In a double boiler, melt unsweetened chocolate.

Add cocoa powder, stirring constantly until smooth.

Using a whisk, stir in milk until smooth and blended.

Remove from heat and cool completely.

Meanwhile, whisk eggs for 1-2 minutes or until light and fluffy.

Gradually stir in sugar and whisk for 1 additional minute.

Pour about half of the milk mixture onto the beaten eggs.

Beat well to combine and then return the egg/milk mixture to the saucepan.

Continue to cook over low heat until mixture thickens and begins to stick to the back of your spoon.

Stir in cooled chocolate mixture.

Chill for 2 hours until cold.

Pour into your ice cream maker.

Mix in ice cream machine for 25-30 minutes or according to manufacturer's instructions.
Video
FAQs on the Best Chocolate Ice Cream Recipe
How Do You Make Chocolate Ice Cream Soft?
There are different ways that you can make ice cream softer. The key is making sure the ice cream doesn't harden as much. So, we have to do things to the ice cream to keep it from freezing so hard. Importantly, make sure you don't skimp on the sugar. Sugar doesn't freeze. Also, you can add extra egg yolks during the tempering phase.
What is the Best Way to Store My Chocolate Ice Cream?
Key thought: ice cream hates changing temperatures. You'll want to avoid storing your ice cream in the door of your freezer. Store your wonderfully chocolatey treat as far away from the freezer door as possible, like in the back of the freezer. As soon as you finish serving it up, put it back in the freezer. The longer it is outside of the freezer, the more it will melt, and the lower the quality.
Also, ice cream is best stored as cold as possible, below 0°F. Your freezer container is also very important. You want something that is flat and wide, not in the shape of a box. Or, use several smaller containers which will help the ice cream to freeze faster. Because that is the goal, you want your ice cream to freeze faster to reduce the size of the ice crystals. The smaller the size of the ice crystals, the more likely it is to be just as tasty as when you first churned it!
Can Chocolate Ice Cream Be Good for You?
No. The problem of course is the sugar. Very simply, fat is not bad for you because it doesn't spike insulin. Sugar is bad for you because it does spike blood sugar. You should consume small amounts of ice cream. Yes, chocolate ice cream does have cocoa in it, which is healthy. But the health risks of the sugar far outweighs the health benefits of the cocoa. If you're looking for health benefits, just consume the cocoa. And unfortunately, sugar is necessary in ice cream because it increases the quality of the ice cream by reducing the size of the ice crystals. So there is no getting around it.
What Goes Best with Chocolate Ice Cream?
Ah, a perfect question. Chocolate ice cream pairs really well with other desserts.
Brownies and Cakes
Think back when you were a kid. You have chocolate ice cream with white or yellow cake. So yummy!
Also, for the extreme chocolate lover, a soft, warm, chewy brownie would be a wonderful treat!
Pies
Pie served with ice cream (pie a-la-mode) is a wonderful choice. In fact, you could do bananas. They go really well with chocolate. For example, why not try a banana cream pie?
There's also peanut butter pie and different fruit pies, like raspberry, strawberry, or blueberry!
Banana split
Speaking of bananas, banana splits are always a tasty treat.
Crepes or Waffles
And then there are dessert waffles or crepes. You could try a cake batter dessert waffle.
Cookies
A soft, sugar cookie or a chocolate chip cookie could really hit the spot, also. Try an ice cream sandwich!
Soda
Finally, there's the classic ice cream soda, or a root beer float. Yes, chocolate ice cream with soda, an excellent choice!
Go back to Chocolate Ice Cream Recipes Main Page
Go back to Ice Cream Recipes Main Page
Go to Serving-Ice-Cream.com Home Page from Chocolate Ice Cream Recipe