Ice Cream Party
Yummy Fun
An Ice Cream Party? What fun!
Whether you're having a party or you're just bored and want to have some fun, there's plenty of things you can do with ice cream!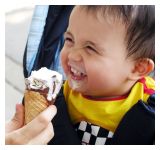 First off, if you're throwing a party – you're going to need some ice cream party invitations. Here's some things to think about whether or buying or making your own.
You also may want to have some ice cream scoop favors for your guests.
Next you're going to need to know how much ice cream you need for your party. Here's some info to help you figure out how much ice cream you need to buy or make.
Here's a growing list of fun ice cream ideas you can try! The fun ideas have just begun!
Ice Cream Party Games
Ice Cream Game Ideas
Easy games with simple instructions. From twists on classic party games to all-new creative games!
Ice Cream Games You can Buy
Games, puzzles, crafts, and learning activities…we've got it all for you!
Ice Cream Crafts
Flower Bouquet Ice Cream Dessert
Here's a fun craft ice cream craft to make and eat! It's not hard, but it is yummy! What is it? "Dirt Ice Cream" served from a flower pot with cookie "flowers" planted in the ice cream! You can find the directions for the Flower Bouquet Ice Cream Dessert here.
Ice Cream Activities
Ice Cream Picnic
Nothing is more fun on a bright sunny day than eating outside…but bright days tend to get hot! How about making some ice cream at your picnic? You won't have to worry about it melting in your cooler! In fact, you can put some of that ice that was keeping your food cold to good use!
What You'll Need
These ice cream makers use a combination of ice and rock salt to freeze ingredients into a tasty ice cream in 20-30 minutes. It's fun to make and equally fun to eat! Your "picnic-made" ice cream is sure to be the hit of the day!
If you're thinking about a picnic, but need some help planning, The-Picnic-Site is a super resource to help make your day outside fun and relaxing!
Go back to Ice Cream Info Main Page
Go to Serving-Ice-Cream.com Home Page from Ice Cream Party