Ice Cream Scoop Favors
for your Wedding or Party
Ice cream scoop favors work wonderfully as a wedding or party favor. Here are some considerations and great favors that you can use for your event.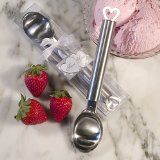 Read about favors – or browse available options at the bottom of the page.
Wedding Ice Cream Favors
The regal formality of weddings has been trending downward in the past couple of years due to challenging economic times as well as a desire just to be more casual.
It's not unusual these days to go to a wedding reception that is a throwback to the 50s when a cake and punch affair was the norm.
Ice cream is also fun to serve along with the cake…and an ice cream theme is equally as pleasing.
A natural extension of that is to give your guests ice cream scoop for their favors.
Usually favors given at weddings don't generally rate high in practicality, but ice cream scoop favors come in such a variety of styles that they can be tailored to your wedding theme and still are a gift that people will take home and use.
Most favors are thrown away or put in a drawer, but these can be used time and time again.
Best of all, it will bring back a pleasant memory of the special event they attended.
Ice Cream Scoop Themes
Whatever the theme of your wedding or party, you will find an ice cream scoop that compliments your style.
If you are having an outdoor beach theme you will love the metal ice cream scoop with resin handle that features a starfish on a sandy, white beach under a blue sky. It comes in an elegant black box with an organza ribbon and even has a thank you tag attached.
If you have a sophisticated theme in mind, calla lilies might be perfect.
One special scoop we spotted online has a poly resin calla lily handle in white with touches of buttery yellow and also comes in a velvet-lined gift box with an organza bow.
Party Ice Cream Scoop Favors
These special ice cream scoop favors are not limited to weddings.
A Valentine's Day party could be enhanced by giving each guest a heart-themed scoop.
A wonderful baby or bridal shower favor could be a shining, chrome scoop.
A scoop with a resin waffle ice cream cone handle complete with candy sprinkles would be a great birthday party favor
Along with a return to a simpler, less expensive event, these special favors are reasonably priced and can be purchased online.
Your guests will feel indulged by this special gift and the elegant packaging gives it the feel of a more expensive item.
Go back to Ice Cream Party Main Page
Go back to Ice Cream Gifts Main Page
Go to Serving-Ice-Cream.com Home Page from Ice Cream Scoop Favors