Ice Cream Dessert
Flower Bouquet
This fun ice cream dessert will be a favorite among your family and friends. It tastes great and it's simple to make.
The creative presentation lures people to the dessert table and quietly whispers…"Try Me!"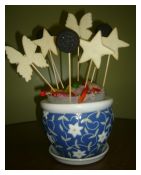 What You'll Need
Thin skewers for cookies
Cookies
Homemade cookies baked with skewer (sugar cookies work well, see recipe below) and/or Double-stuff Oreo Cookies
Ice Cream
Dirt Ice Cream is best, but you can also use store-bought chocolate ice cream and mix in your own gummy worms and crushed Oreos.
Gummy Worms
Crushed Oreos
Flower Pot
Use several small flower pots for individual bowls or 1 large flower pot for the serving bowl. Pots shouldn't have a hole in bottom.
*Note: You can also put the ice cream in a container that easily fits inside the flower pot and simply place that container inside the flower pot.
Directions:
Cookies
Mix up cookie dough according to directions.
Before baking, place a skewer through the center of every cookie.
Bake according to recipe directions. Cool.
Decorate cookies with icing if desired.
If using Double-stuff Oreos, carefully stick skewer through Oreo center.
Assembly
Place Dirt Ice Cream into appropriate container.
Sprinkle the top of your ice cream dessert with crushed Oreos and Gummy Worms.
"Plant" your cookies on skewers in the ice cream, arranging nicely.
Serve immediately.
Sugar Cookie Recipe
Ingredients
1/2 cup soft butter
3/4 cup sugar
1 egg
1 tbsp milk
1 tsp vanilla
1/4 tsp salt
2 cups flour
Directions
Cream butter and sugar.
Beat in egg, milk, and vanilla.
Mix flour and salt together and mix into butter mixture.
Roll out cookie dough and use cookie cutters to cut out cookie shapes.
Slide skewer through the middle of the cookie.
Bake at 350 for 10-12 minutes until cookies begin to brown on edges.
Cool.
Decorate with icing if desired.
Go back to Ice Cream Dessert Recipes Main Page
Go to Serving-Ice-Cream.com Home Page from Flower Bouquet Ice Cream Dessert