Ice Cream Cooler
An ice cream cooler makes transporting ice cream an easy, pleasurable experience!
You're going on a picnic and want to bring your favorite dessert – ice cream! But then comes the dilemma…ice cream's definitely not the easiest to transport!
I was faced with this problem recently. I brought homemade ice cream to a BBQ, but had no way to keep it cold. When I arrived at the get-together the ice cream had become…well…soupy!
After that experience, I searched for a solution! A cooler…specifically designed to keep ice cream cool!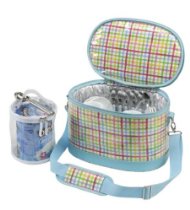 Whether going on a picnic or wanting to take ice cream to a party, these brightly decorated coolers will help keep your ice cream in "edible condition" in a fashionable and convenient manner!
There are two different sizes of coolers.
The larger Beach Day Ice Cream Party Cooler pictured above.
The smaller Beach Day Ice Cream Tote pictured below.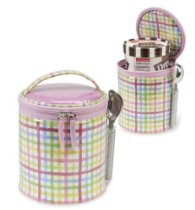 Ascot Beach Day Ice Cream Tote and Cooler Features
Keeps Ice Cream Cold
This insulated cooler is specifically designed to keep ice-cream-on-the-go cold!
Makes Carrying your Frosty Treat Simple
Tote: The smaller ice cream cooler is equipped with an easy to tote hand strap, making carrying simple and easy.
Cooler: Equipped with a shoulder strap, the larger cooler can easily be slung over your shoulder…leaving your hands free to carry the kids, other picnic gear, or hike up a mountain!
Makes Serving Ice Cream Easy…Anywhere!
Both coolers come equipped with an ice cream scoop, making serving ice cream a breeze…no matter where you and your family decide to dig in to this great treat!
Cooler: The larger cooler also has a service for 6.
Keeps Ice Cream from Getting Messy
Cooler: Since a cooler will obviously never work quite as well as a freezer, this cooler will keep your ice cream from getting messy….should you be out too long on your excursion in the sun! It comes with a clear bag designed to hold a 1/2 gallon size ice cream container. This bag keeps any melted ice cream inside the holder and prevents drippy ice cream from getting all over the cooler! No big mess to clean up!
Tote: This feature is unnecessary for the ice cream tote since it only holds a 1/2 gallon of ice cream. It does not carry bowls or spoons. The scoop is carried on the outside of the tote. No messy drips with the tote either!
Whether getting it for yourself or an ice cream loving friend, the Beach Day Ice Cream Party Cooler and the smaller Beach Day Ice Cream Tote make ice cream toting an easy and pleasurable experience!
Go back to Ice Cream Gifts Main Page
Go to Serving-Ice-Cream.com Home Page from Ice Cream Cooler