Musso Ice Cream Maker
The Musso ice cream maker is a reliable Italian-made appliance. These commercial-quality machines produce delicious ice cream, sorbets, and frozen drinks using a self-contained compressor freezer.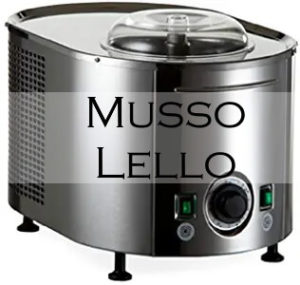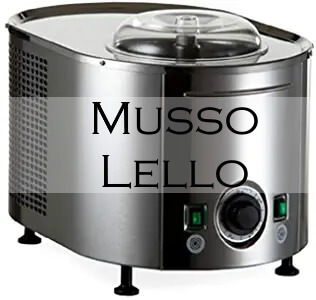 You can make continuous batches of ice cream with no real wait in-between batches, because there is no freezer bowl to pre-chill.
Satisfied customers say the quality of Musso ice cream machines makes them well worth the price. Musso consistently gets great reviews by their customers.
Ease of use, versatility, and high quality ice cream make the Musso a wise choice.
Below you'll find the specs for these ice cream makers, if you'd like to read a review check out our Musso Lello Ice Cream Maker Review.
You can read customer reviews or find the Musso Lello ice cream maker  on Amazon.
Features for Musso Ice Cream Machines
Stainless steel exterior, bowl, and blade
Non-removable, easy-to-clean bowl
Removable, easy-to-clean blade
Transparent lid, allowing you to view ice cream as it churns
Timer that is used in conjunction with the Churn and Chill switches
Churn switch: blade only turns when Churn switch is on; with the Churn switch on and the Chill switch off – the ice cream maker can mix the ice cream ingredients for you
Chill switch: unit only freezes ingredients when the Chill switch is on; for easy removal of ice cream – you can turn off the Chill switch 3 minutes before you take the ice cream out of the machine
Musso products: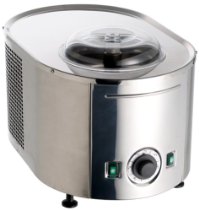 Lello 4080 Musso Lussino 1.5-Quart Ice Cream Maker, Stainless
1.5 quarts
Makes ice cream in approximately 30 minutes
Size: 12 X 18 X 11 inches, 44.05 lbs
100 watts 110 volts
1 year limited warranty
The Musso Lussino ice cream machine is perfect for making all your frozen treats. Because it freezes the ice cream with a compressor freezer and not a freezer bowl, you can make continuous batches of ice cream without having a large wait time in-between batches. With the convenient timer and Chill and Churn switches, this commercial-quality ice cream maker turns quality, homemade ice cream making into a breeze.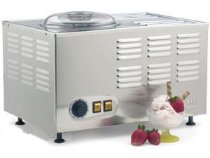 Lello Musso Pola 5030 Desert Maker
2 quarts
Makes ice cream in approximately 20 minutes
Size: 20 X 14 X 12.25 inches, 72.5 lbs
300 watts 110 volts
1 year limited warranty
The Musso Pola is a top of the line, commercial-quality ice cream maker. It is one of the best ice cream freezers available for home use. Using its compressor freezer, it produces wonderfully churned, deliciously smooth homemade ice cream…batch after batch. The timer and Chill and Churn switches ensure an easy and successful ice cream making experience. The stainless steel parts are durable and easy to clean. The Musso Pola is the ice cream machine of choice for the serious ice cream chef.
Those who choose a Musso  are satisfied with the quality of the machine…and especially with the taste of the ice cream! One satisfied customer commented that his homemade ice cream makes big name store-bought ice cream taste bad!
Go back to Ice Cream Maker Main Page
Go to Serving-Ice-Cream.com Home Page from Musso Ice Cream Maker