Scoopalicious
by Bethany & Tina
(Scoopalicious)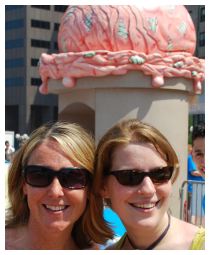 Scoopalicious…the ultimate scoop on making, enjoying, and obsessing over all things frozen.
Scoopalicious Bios
Scooper 1: Bethany
Favorite Homemade Ice Cream: Fluffernutter
Favorite Ice Cream Brand or Store: It used to be Denise's in Davis Square, in Somerville, MA but they moved to Ohio. Now? Hmmmm. Toscanini's in Cambridge, MA is great as is Main Street Dairy in Wethersfield, CT. Not totally sure because I just love ice cream.
Most Exotic Ice Cream Flavor You've Ever Tried: Candied Bacon or Garlic
Scooper 2: Tina
Favorite Homemade Ice Cream: Ginger (from David Lebovitz's The Perfect Scoop)
Favorite Ice Cream Brand or Store: Brand: hands down Ben & Jerry's / Store: Toscaninis, Cambridge, MA (ny newfound favorite that is!) & Lizzy's Enchanted Creamery (Cumberland RI)
Most Exotic Ice Cream Flavor You've Ever Tried: Candied Bacon or Garlic too (both courtesy of Bethany!)
What is the background of your blog?
Bethany: This is a funny story for me . I have been making ice cream somewhat seriously since 2003 (not counting the couple of times I made it as a child). Here's how it started: one Christmas I was at Crate and Barrel with my roommates, saw an ice cream maker, and said "ooh, fun." They got me one, and the rest is history…well, as for the ice cream making part. Soooo, then one day right after Christmas, Tina emailed me with a question about ice cream making because she had just gotten an ice cream maker. I thought about her question and then it occurred to me that there really weren't any good references for making ice cream online that I knew of. I had been wanting to start a blog for a while, but I didn't know about what, so suddenly it hit me: ICE CREAM! I told Husband and Best Friend From High School BUT…in my process of thinking about this over the course of a day, out of the blue Tina emailed me and told me she had started Scoopalicious. I told her I had been thinking of doing the same thing! We decided to partner up and I am so glad we did…it's nice to have such a great friend to share the ice cream making, eating, and blogging with.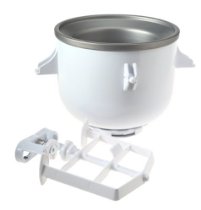 Tina: For me my ice cream obsession comes from my Dad. Every night to this day he has a bowl of ice cream before bed (except during Lent!) so of course I followed in his foot steps until I hit the college years and it all caught up with me! Fast forward many years later to meeting a fab coworker in the next cube that talks and shares her stories of making ice cream (yup, that would be Bethany!). I had to get in on this so for xmas last year the only thing on my list was the ice cream maker attachment for my Kitchen Aid mixer. Figured if there was one thing on my list I was bound to get it. So Santa did good and as of Dec 25, 2007 I was on the road to churning my life away. This is actually where the blogging comes in. I wanted to make sure I started off right and went online to do some research and came to a conclusion that there are 1,001 cupcake blogs but just a handful of ice cream blogs and most of them were big brand. I had had an interest in blogging but never knew what to blog about so ta-da…I had my topic and one that wasn't out there a ton already. I figured I wasn't the only one searching for a good resource on ice cream or just some good ice cream entertainment. I excitedly emailed Bethany and told her about my new blogging adventure of Scoopalicious, and low and behold she was going to do the same. So we joined troops and Scoopalicious then became two scoops. And thank god we did because this blogging gig is really a second job but much more fun!
Oh and the name…just really came to me. Wish I had a better story but I wanted a single, catchy word and did a little creative brainstorming and "scoopalicious" came out and I knew that was it. Maybe I was listening to Fergalicious at the time!
What sets Scoopalicious apart from other blogs on ice cream?

Our main goal is to have fun and not gain too much weight from all the ice cream! Ha! Really its simple…our focus is all things ice cream…from the newest fro-yo craze, to a fun homemade recipe, to what's in the freezer of our local shops. And that's simply what makes us different, the variety of our postings: from recipes and processes, reviews of shops and products, and then the random tidbit or ice cream paraphenalia write-up. We try to keep our posts diversified so its not predictable but always about ice cream.
Tell us a little bit about the artwork on your site.
Seeing as we're both art director/designers by day its inevitable that our talents seep onto our site every now and then. Tina designed the fabulous header, and Bethany is the true fine artist who creates the little watercolors (Bethany is trying to make artwork full time and sometimes lacks inspiration, so this blog is a perfect outlet to play around and have fun! She likes like to eat ice cream, why not draw/paint it?!)
For someone who's just beginning the art of making their own ice cream, what advice would you give them?
Have fun.
Practice makes perfect. Follow the directions until you get the hang of it (because there really is a science to making ice cream), then don't be afraid to do your own thing.
Have a party so others can eat your flavors too — it gives great room to experiment and try out different recipes without the feeling that you have to eat all of it and your friends will love you for it!
If you have a canister that has to be frozen in advance, keep it in the freezer if you have room. How many times have we wanted to make ice cream and not have frozen the canister. How disappointing!
What's your funniest experience involving ice cream?
Bethany: Hmmm. My sisters and I still tease my mom about a time when we were up in Vermont when we were younger. We went to an ice cream stand and I think Dad and all the girls got apple ice cream (yum) but mom got coffee…Mom said in a joking, taunting way: "I got coffee so none of you will take any." (Which is true — we wouldn't. At that time none of us liked coffee or anything flavored coffee — I still don't.) As she said it, her ice cream tumbled out of the cone and into the grass.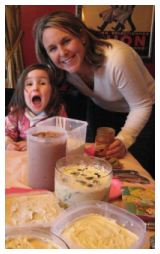 Tina: I ask my 2-year old daughter, what's your favorite store and she quickly says Target (of course!) and then I say, okay what's Mommy's favorite store, and she screams…the ice cream store! (more humorous than a story but it was too cute to go untold!)
Any final tips you can share with us about making, serving, or selling ice cream?
For making: fresh cream and eggs make for a smoother and richer ice cream so buy local when possible.
For serving: Let ice cream stand out for a few minutes before serving, the flavor will be that much better.
For eating: We like to let the ice cream speak for itself — no toppings, just pure ice cream.
For selling: We've never sold ice cream — we never have any leftover to sell…but making and serving?
Ever checked out Scoopalicious? Rate this blog and let us know your thoughts!