Relaxation Therapy
by Suzanna Pickering
(Rochester, NY USA)
A Death by Chocolate ice cream sundae with cashews, whipped cream, maple syrup, and a cherry.
This chocolate ice cream sundae is the perfect treat after a long stressful day at the office! It offers a great blend of chocolate and maple flavors.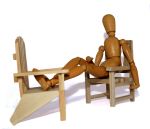 What You'll Need
Death By Chocolate Ice Cream
Cashews
Whipped Cream
Maple Syrup
Cherry
What You'll Need to Do
Scoop a generous helping of Death By Chocolate ice cream into your favorite ice cream bowl or cup.
Sprinkle with cashews.
Top your ice cream sundae with whipped cream.
Drizzle maple syrup on top.
Decorate your ice cream sundae with a cherry!
Finally…kick back…and RELAX!
Go back to Ice Cream Sundae Main Page
Go to Serving-Ice-Cream.com Home page